Morrisons chief executive Dalton Philips has issued a rallying cry to staff to "fight hard" in a bid to get the beleaguered grocer back on track.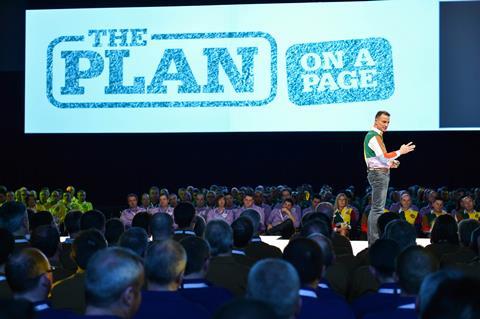 Speaking to store managers on Monday, Philips stuck to his guns on his Fresh strategy, which ranges from food to store design. This approach has come under fire from life president Sir Ken Morrison and some City analysts.
In a determined speech to store managers, head office and manufacturing staff at Morrisons' National Kick Off conference in Manchester, Philips said: "It will be another tough year for customers and we will need to fight hard for them. It won't be easy but we have the right strategy and the right plan.
"We will pick ourselves up and get back to what we are best at - reinforcing what makes us different in a noisy market." Morrisons last night unveiled its new TV ad campaign featuring Ant and Dec, who attended the conference, on ITV1. The ad is designed to highlight its food production credentials.
Philips laid out his plan to win back shoppers after haemorrhaging customers over the past year and recording a 2.5% fall in like-for-likes over Christmas. The strategy includes reinforcing differentiation, improving prices, promotions and range. The grocer also unveiled the first products from its new kids' clothing brand, Nutmeg, which launches next month.
One store manager told Retail Week: "We've been told to get back to basics and make Fresh the focus and I think that's right - store standards and availability are not where they should be. Market Street is our unique selling point so people need to know about it. The last year has been very difficult."
Another said Philips needs to "speed up on convenience" - a key factor in its festive slump.
Morrisons bought seven former Jessops stores this week and, along with other grocers, is understood to be eyeing opportunities to pick up HMV and Blockbuster shops to support the expansion of its convenience arm. It plans to open 50 M Local shops this year.
Philips' presentation also touched on the launch of an online grocery operation, understood to be slated for later this year. Sources close to the division suggested the project has not moved as quickly as hoped.
Investec analyst Dave McCarthy said: "Morrisons is losing out to Tesco and the discounters. It needs the right marketing to communicate the quality of its fresh food."
Morrisons this week introduced a new Payday Bonus promotion offering money off on three consecutive shops over £35.