McColl's Retail Group has posted an increase in profits and revenue in its first full-year trading figures since its IPO last February.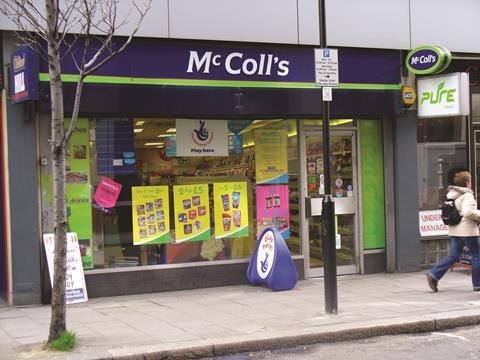 Adjusted EBITDA increased by 9.0% to £37.3m, while total revenue was up 6.1% from £869.4m in 2013 to £922.4m in the 53 weeks ending November 30, 2014.
Meanwhile McColl's like-for-like sales were up 0.7%, which reflects its strong expansion strategy last year, where it acquired 60 new convenience stores, 45 newsagents to convert into food and wine stores, and 102 convenience stores which it converted to a premium format. The store count at the end of the year was 799, with plans to reach 1,000 by the end of 2016.
James Lancaster, chief executive, said: "I'm delighted to announce our first full-year set of results since the IPO last February. It has been a year of strong growth despite the wider macroeconomic trends.
"We upped the tempo of our growth strategy finishing the period with 799 convenience stores, and acquiring our 800th shortly after the period end. Our Post Office conversions were completed ahead of target and are providing our customers with longer and more convenient times to carry out their post office transactions.
"The market continues to be challenging and competitive, but full of opportunities too. We will continue to grow our convenience store business as we head towards achieving our target of 1,000 stores by the end of 2016. At the same time we will continue to look for ways to expand and extend the range of products and services we provide our customers in neighbourhoods up and down the country."
The retailer has now taken over 451 Post Offices making it the biggest operator across the UK. During 2014, it converted 192 smaller Post Offices, while it also converted 85 larger post offices and acquired 26 new local Post Offices.
"As a result of this huge programme, many of our customers now have a modernised neighbourhood Post Office that stays open longer for them – in fact for all of the hours that their local store is open. In some instances this has doubled the Post Office opening hours. What's more, we are able to reap the benefits of integrating post offices more closely into our stores."
Meanwhile, for its first quarter of 2015 like-for-like sales were down by -1.2% in the 13-week period ended March 1. Total revenue continued to grow by 3.8%. Store development slowed over Christmas, with six convenience store acquisitions and five food and wine conversions completed. The final store tally reached 1,317 including 809 convenience stores.