Majestic Wine chief executive Steve Lewis has stepped down to be replaced on an interim basis by finance director Nigel Alldritt.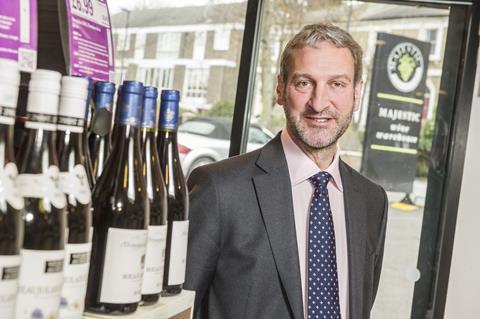 Lewis had been at Majestic Wine for 29 years, serving on the board for 16 years and carrying out the role of chief executive for six years.
He said in a statement that now was "the right time to hand over to a new leader."
Lewis's unexpected resignation comes hours after John Browett's shock departedure from Monsoon Accessorize last night.
Majestic Wine said that the search for Lewis's permanent successor "has been initiated" and a "thorough review of potential candidates is underway."
Majestic Wine chairman Phil Wrigley said: "Steve has made a huge contribution to Majestic Wine during his time with the business. By combining his significant leadership and retailing skills with his determination, dedication and sheer hard work he successfully rose through the ranks from graduate trainee manager in our Clapham store to chief executive.
"He took the helm in 2008 in the midst of the credit crunch and subsequent recession and successfully steered the business through very difficult times. He leaves the business today in good shape, with sales up 41% and profit up 42% during his time as chief executive, and with the business well positioned for the next phase of its development.
"On behalf of the board and all our colleagues at Majestic, I thank Steve for his outstanding contribution to the company and I wish him well."
Lewis said: "It has been a privilege to have developed my career to date with Majestic Wine and I am proud to have played my part in its success over the years.
"I have enjoyed working with my colleagues in stores, logistics, head office and on the board and I thank them all for supporting me with their passion for the business and for serving customers.
"I believe Majestic Wine is in great shape with a clear purpose – to inspire everyone to discover and explore the magic of wine.
"The business is entering a busy and exciting next phase and now is the right time to hand over to a new leader. I wish everyone at Majestic Wine all the best for the future."
Alldritt has served on the Majestic Wine board for 13 years, with a number of responsibilities including finance, IT and logistics.
Analysis: What can be learned from the exodus of chief executives?
1

2

Currently reading

Majestic Wine chief executive Steve Lewis steps down

3

4