New Majestic Wine boss Rowan Gormley has insisted "the only way is up" for the retailer - and has vowed to fight his grocery rivals head-on.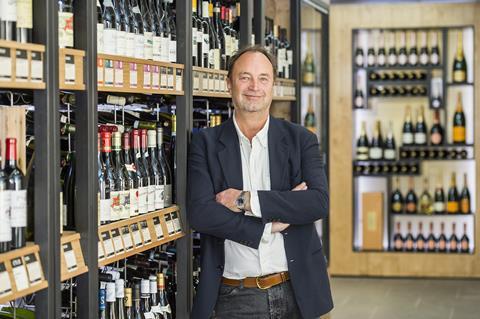 Gormley insists Majestic "can win" despite stiff competition from grocers
Admits Majestic is a business that has "lost momentum"
He will invest an initial £3m into "key projects" in first half of the financial year
Gormley, who took the reins in April after Majestic Wine revealed a deal to acquire online rival Naked Wines, admitted the retailer had "clearly lost momentum" after pre-tax-profits dropped 22.5% to £18.4m for the year ending March 30.
But Gormley is confident he can turn the retailer's fortunes around and has targeted investment in staff training to "accelerate" its customer service drive and hammer home its key point of difference compared with supermarkets and discounters, which have driven down the prices of wine across the country.
Gormley said: "The impact of Aldi and Lidl on the supermarket business in the UK will mean that in 20 years' time, the UK supermarket business will look a lot like France and like Germany, with permanently lower margins and limited product ranges.
"As long as we focus on the things we are good at and do those better than anyone else, then we can create a profitable sector of the market which we can win"

Rowan Gormley, Majestic Wine
"If you look at Germany, the average price for a bottle of wine there is €2.56 (£1.85), but there are some store chains that are catering for our kind of market and are thriving because of their range and service proposition. The two models can exist side by side.
"The UK will probably follow that kind of model, the competition from the supermarkets will be very intense on price, but we have the advantage of range and service. As long as we focus on the things we are good at and do those better than anyone else, then we can create a profitable sector of the market which we can win."
Gormley outlined the training as one of his key priorities, which also include making the shopping experience easier and more fun, rebuilding the supply chain and delivering a "robust and scalable" IT network.
He will also scale back Majestic's store opening programme, opening 20 to 30 new stores rather than targeting the 330-mark that was outlined by his predecessor Steve Lewis.
Investment
Gormley, who said he would provide a full update on his strategy in November, today unveiled initial plans to invest £3m in the first half of this year as his three-year turnaround plan swings into action. He admitted it was "too early to quantify" how much additional investment would be required, but said the first wave of cash would allow Majestic to make "a good start on some key projects".
He added: "It's obviously a great business, but it's clearly lost momentum. Customers are telling us there are things we need to do better and staff turnover is unacceptably high, so that needs to be addressed. I'm confident these issues can be addressed, but it will take investment and it will take time.
"The only way from here is up. The people here are excellent, they are up for change and they've got the energy for it. There are several areas where I don't know exactly what the answer is at the moment, but are going to find out.
"We'll do that through our test-and-learn strategy, which is what we've done for years at Naked Wines, and the reason Naked Wines has been able to grow so aggressively is because what we have been able to do is find out what works, then invest hard on the basis of good data."