Our two-part interview with ex-Tesco boss Sir Terry Leahy, we look into what made Tesco great and why his legacy swiftly unravelled after his departure.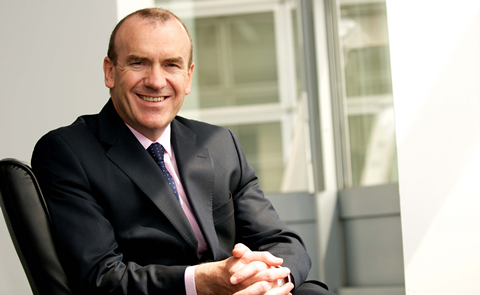 When he left Tesco for the last time as he celebrated his 55th birthday in March 2011, Sir Terry Leahy could look back with pride on taking the business to new heights.
He also thought he could look forward with confidence to the grocery market leader's continued success under the leadership of his successor, Phil Clarke, an old Tesco hand who had been on the board since 1998.
A seamless transition was expected. However, things did not turn out as Leahy or others anticipated they would.
A loss of strategic direction and confidence, weak execution and – perhaps above all – the appointment as chief executive of someone who proved to lack the requisite people and leadership skills were among the factors that led to a steep decline in Tesco's fortunes.
When Leahy departed Tesco, his successor inherited a proven strategy. Certainly, in the aftermath of the financial crash and recession, there was no room for complacency, but the grocer started from a position of strength.
Then-chairman David Reid, himself a Tesco long-timer and a board member since 1985, observed in a tribute to Leahy in the 2011 annual report that under his 14-year leadership the retailer had achieved a four-fold rise in sales and profits and expanded into 13 countries. "Terry is undoubtedly one of the leading businessmen of his generation," he wrote.
Reid was sure that "there could be no better person to lead us going forward than Philip Clarke" and he had "every confidence that under Philip's leadership, Tesco will go on to achieve even greater success in the future".
Clarke himself wrote in his chief executive's review: "I have inherited a great legacy and I am really excited about the future."
The following years brought catastrophe for Tesco. That led some to ask whether in fact, at the time of Leahy's departure, its best days were already behind it.
Now though, Tesco is once again in the ascendant. A renewed focus on basics such as price and quality, and new thinking such as the purchase of Booker opening the door to further opportunity could come straight from the Leahy textbook.
"It should be a reminder that in a difficult environment, nobody's guaranteed success."

Sir Terry Leahy
A new chapter for Tesco makes it a good time to seek Leahy's reflections on the dramatic developments at the grocer in recent years.
He says: "If you look today, the recovery is built on what was great about Tesco. Those stores that were 'too big' – they're growing again.
"An idea was put about that Tesco was never that good a business and got what it deserved. I think that it would be a shame if that went unchallenged. There should be a proper explanation of what happened.
"The opportunity, I think, is to try to get the history right. I think the history has gone a little bit awry. There are understandable reasons for that – you look to deflect criticism on to the old team or whatever – but I think that's not fair to the business or the people in the business."
He draws one big conclusion from Tesco's travails after his departure: "I think it should be a reminder that in a difficult environment, nobody's guaranteed success. If you do some things wrong, you'll get punished. If you do some things right, you'll get rewarded."
A dramatic ascent
The reversal in Tesco's fortunes following Leahy's exit was perhaps all the more surprising because of surface similarities between him and Clarke.
Leahy's ascent was the ultimate working-class lad made good story. A Liverpudlian from the humblest of origins, whose passion – after Tesco – was Everton Football Club, Leahy began at the bottom of the business and worked his way up.
An intense, sometimes austere character, he brought laser-like focus to his roles. His route to the chief executive's office was paved with success in the marketing department where, as marketing director, he launched Clubcard and used it to forge unprecedented connections to customers.
As chief executive, he took Tesco overseas and built an empire with stores from the Far East to, controversially, the US West Coast.
Like Leahy, Clarke was from a humble background – and also from Liverpool – and rose through the ranks. Along the way, he held pivotal roles at Tesco, internationally and overseeing its technology.
With almost 40 years of service under his belt and a star member of the Tesco team, he was accepted by observers as first among equals when promoted to become chief executive.
However, as became clear, the pair were very different and, far from ascending to ever greater heights, Tesco span off course.
Profit warnings – unheard of at Tesco during the Leahy years – started within months of Clarke's accession. The first, in January 2012, was the grocer's first in two decades. Jaws dropped in the City and almost £5bn was wiped off the grocer's value within hours.
His departure in 2014 was accompanied by another profit warning. And, in the months after, an accounting scandal broke – it must be pointed out that Clarke was not implicated – and Tesco went on to report a £6.4bn loss, one of the biggest losses in UK corporate history.
The Clarke years represented "an extra­ordinary act of corporate vandalism" that almost floored a Great British retail institution, according to former Tesco chief executive of retailing services Andy Higginson, now chairman of Morrisons."
Making Tesco great
Such a reversal of fortunes holds lessons for retailers today. The first, and most fundamental, is that retailers stand or fall depending on how they serve their customers.
Tesco's success was rooted in relentless customer focus and resonance with a changing consumer society.
Leahy says: "If you look today at the great tech giants, as far as customers are concerned, why they are really good is they've made life a bit better. That's what Tesco was doing in its own way 10, 20 years ago, and that's what made the difference."
"Tesco was the retailer who first sensed that there was a different consumer emerging after the recession in the early 1990s, and actually a different society"

Sir Terry Leahy
Leahy's understanding of the customer was rooted in recognition of societal change as well as knowledge of individual consumers.
He says: "Tesco was the retailer who first sensed that there was a different consumer emerging after the recession in the early 1990s, and actually a different society.
"There was less class distinction and almost everybody was happy to be regarded as middle-class. People were much less inclined to signal their position in life by everything that they did. Tesco picked up on that very well.
"We had listened to customers talking about their lives, and they were busier and busier. They said it would be great if these nice big stores and all they had could also be next to the office or next to my apartment or on the university campus."
That listening was enabled by Clubcard. An innovation at one time dismissed by competitors as an updated version of Green Shield Stamps, Clubcard represented a seminal moment in the history of modern retail that typified Leahy's focus on customers.
He says: "We were helped enormously by Clubcard because it gave us invaluable information about how people actually behaved."
Game-changing initiatives ranged from the development of better-located and new types of shop – whether Extra hypermarkets or Express c-stores – through to spearheading extended opening hours and Sunday trading.
Product segmentation became increasingly sophisticated as the Finest brand provided "the equivalent to eating out in a restaurant" while the Value range meant that less well-off shoppers "didn't have to think about shopping elsewhere – you could get all the value you needed at Tesco".
That value was a core element of Tesco's established strategy when Leahy left.
Strategic and tactical errors
Those strategic foundations, according to Higginson, meant Clarke inherited a business that was fundamentally strong.
Higginson says: "The strategy was relatively simple and it was executed well. I think a lot of that was down to management, led by Terry, and I think he put strong people in place."
But strategic and tactical errors were soon afflicting Tesco and putting its position under threat.
As Higginson acknowledges, Tesco had over the years often been able to "make mistakes in a pretty benign environment".
By the time Clarke took the reins, the environment was very different as consumers and the country reeled from the effects of the financial crisis.
Price was becoming an ever more important retail draw for consumers. Aldi and Lidl were on the rise and determined to seize their moment.
Tesco at that time failed to act decisively, throwing the door wide open for the discounters to forge ahead.
Leahy observes: "The first thing to say is retail turnover is built on attracting customers every day or every week.
"People genuinely have a choice – 90% of the population have three or four major supermarkets they can choose at any time. Every week or every day that they go shopping they have to choose you from those three or four.
"It's not like using an airline in Heathrow when the landing slots determine that you've got to use this or that airline – every week you have to build that business, and that was very much the mindset."
Leahy says the recession created "an extraordinary environment" that called for a change of strategy.
He says: "I thought we were doing the right things at Tesco to keep customers in our stores. The recession ran on, that meant it was increasingly challenging for the middle supermarkets, that meant there needed to be a change of strategy and I think that didn't happen – the supermarkets didn't do the right things.
"If I'm honest, I think that rather than doing the right things they did the wrong things. That allowed Aldi and Lidl to see a growth in traffic."
The wrong things
The 'wrong things' included ditching Tesco's 'Discount' brands, which had been introduced in 2008.
Leahy says: "These were house brands owned by Tesco, which gave extraordinarily good value for money, allowing people to do all their shopping in one place rather than feeling the need to shop around.
"That range was abandoned, which I think was a mistake. Tesco's price list had been the key to its success. That I think needed to be strengthened further and in fact it weakened.
"The way it weakened – and this is not just Tesco, it is the supermarket industry in general – is much, much too much investment into hi-lo. It got so ubiquitous it actually undermined people's belief in the shelf-edge price. It played into the hands of the everyday low-price players."
Ed Matthews, who at Nomura was Tesco's former house broker, says: "The UK ran on too high prices and margins for too long. The discounters were left to get on with it."
Only now are Tesco's price credentials back to where they were 10 years ago, says Bruno Monteyne, food retail analyst at Bernstein, who worked for Tesco for 10 years until 2012, including a stint as Asia supply chain director.
In a note this month, Monteyne wrote: "Tesco used to have a strong pricing position: 200 basis points below the average of the other big four. During the time of Philip Clarke, that pricing position deteriorated by 300bps to be 100bps more expensive."
Clarke also ended double-Clubcard-points promotions, which Leahy says had been "a tremendous reassurance to the solid core of loyal customers".
He maintains: "It was the wrong message at that time because it created an uncertainty – 'I'm getting less, at a time when it's difficult out there' – and what they did instead was Big Price Drop, which was badly executed. As a result, it unsettled the most important customers, the solid core."
Higginson says that Tesco should have seen the need to focus more on value, even before Leahy left.
He says: "What Tesco did, certainly with Phil in an attempt to show growth was still there and to keep the story going, they raised prices to widen margins to shore profits.
"The rest of the supermarkets followed gratefully behind, because once Tesco took its foot off the gas slightly on pricing everyone else said we'll have some of that too. Meanwhile, the discount sector was growing."
Digital distractions
However, as Aldi and Lidl expanded apace, Clarke's interest was growing elsewhere. As multichannel retail grew, he attempted to reflect that shift in habits.
Tesco had a successful online business, but he branched out into new ventures such as film-streaming with the purchase of Blinkbox in 2011 and the launch of the Hudl tablet in 2013.
While Aldi was winning with its low-priced fruit and veg, Clarke became increasingly focused on digital.
Monteyne says: "Tesco was already leading on digital, they knew digital. What Philip Clarke did was push it even further with the launch of a tablet – where the hell did that come from?"
Matthews says: "He went off on a tangent about the whole digital thing and other stuff that ended up in the bin."
In between, Tesco's troubles had come to a head, with the profit warning in early 2012 that so shocked the industry. It was a watershed moment of Clarke's leadership with huge consequences – and one that Leahy believes Clarke fundamentally mishandled.
"Once the leader of a business attacks his own business there's no way back."

Sir Terry Leahy
Clarke spoke of the business having been run 'too hot' and seemed to start to doubt the continued appeal of Tesco's big-box stores.
Leahy maintains: "Around that profit warning I think Phil made a terrible, terrible error.
"Instead of standing up and saying, 'look, the environment out there's got a lot more difficult…' he maybe could have said 'we made a couple of stumbles over how we responded, but we're on it'. He didn't do that.
"He stood up and actively attacked his own business – the stores are too big, they're overheating. I mean for the staff in the business who dedicated their life, who were completely delivering the brand on motivation, to be told after all these years that this business was no good was absolutely flawed.
"They completely lost confidence. And from then on it never recovered because once a business loses confidence it just doesn't know what it's doing and everything seems to be a complete mess.
"Once the leader of a business attacks his own business, there's no way back."
Believing its critics
Leahy says Tesco fell into a trap of believing its critics rather than addressing the fundamentals of its troubles.
These troubles escalated in 2013 when 'Horsegate' hit. The meat scandal was used by critics as evidence of the failures of Tesco and its big grocery peers.
But Leahy points out: "It was a fraud – a fraud, nothing else – by some suppliers and it affected a number of retailers. Unbelievably, instead of Tesco defending itself, it sort of stood up and said 'mea culpa, yes, our supply chains are terrible, you've been right all along'. This type of thing then just became a regular occurrence."
He says: "Tesco had always had its critics because it did break down class barriers and there are some people in society who like class barriers.
"You were never going to persuade these people to like Tesco and, fatally, Phil and the new chairman [Sir Richard Broadbent] seemed to think 'if we agree with what these people have been saying about us, they'll like us'."
It was not the only instance when Clarke's Tesco reacted in the wrong way, Leahy believes. Clarke called time on Fresh & Easy in 2013, when the loss-making US business was offloaded at a cost of about £1bn to Tesco.
Leahy insists that if pursued Fresh & Easy would have been successful.
"Fresh & Easy was the most popular concept we ever developed with customers. It was one of the most popular brands ever launched in the US.
"It was the fastest-growing part of Tesco when I left the business – it was loss-making, but the losses were coming down. Ironically, the fastest growing sector of American retailing is convenience retailing."