Smiling faces weren't synonymous with grocery retailers in 2015, but step inside 33 Holborn, and that's precisely what you are greeted with.
And well might the staff working inside Sainsbury's plush central London headquarters wear those smiles with a keen sense of pride.
The supermarket giant, once identified by many observers as a potential casualty of recession and the rise of the discounters, has emerged from another turbulent year as the big four's stand-out performer.
Kantar data showed the grocer added sales ahead of its biggest rivals – Tesco, Asda and Morrisons – for three consecutive months at the back end of 2015.
At the centre of that feat has been chief financial officer John Rogers, who worked alongside boss Mike Coupe to draw up the three-year strategy the duo unveiled to the City in November last year. Since then, Sainsbury's prices have become more competitive, investment has been ploughed into improving the quality of about 1,500 products and operating costs have been slashed by £225m.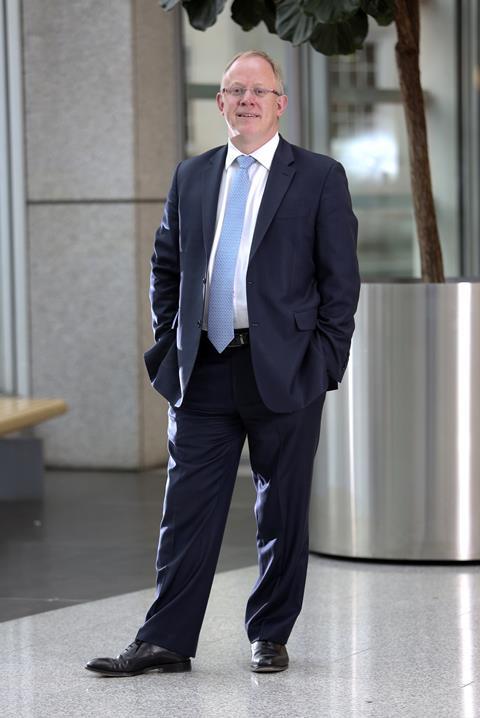 "If I step back and look at our performance across the year, I am pleased with what we've achieved," Rogers says with a smile.
"Mike and I set out a plan 12 months ago, we have by and large executed against that plan and if anything we are slightly ahead of where we expected to be.
"The business is trading well against our peers but it's a very tough market out there – we are not naïve or complacent in relation to the competitiveness of the sector."
For sailing and motor racing enthusiast Rogers, grocery retailing could take a very different course in 2016 than the one it followed last year.
After Aldi and Lidl stormed into pole position on price, the chasing pack have narrowed the gap considerably, although they remain in the German discounters' rear-view mirrors on that front.
But the 47-year-old can foresee another hairpin for the sector to steer its way through during 2016.
He suggests that consumers' increased levels of disposable income will finally start to filter into the grocery sector and force food retailers to consider their wider propositions in greater detail, rather than focusing heavily on price.
Rogers explains: "As soon as customers take the view that 'near as damn it, everyone is at the same price', which we are not far away from today, they will shop based on other components like getting into the car park easily, having a clean and tidy store, the quality of the products and the range, which is really important. I would like to say, on those dimensions, we out-compete our competition.
"I think this year we will start to see a consumer that becomes more aligned to that idea of a differentiated, quality offer"

John Rogers, Sainsbury's
"We've seen a big step up in consumer confidence and disposable income, but what we are yet to see is any of that come into the grocery sector.
"If you look back through history, that finds its way eventually into the food retail space and we may see that this year. That's when the tone of voice may change towards the quality and a differentiated offer rather than purely price.
"I think this year we will start to see a consumer that becomes more aligned to that idea of a differentiated, quality offer. Our view on pricing has always been to remove price as a point of competitive advantage.
"That's not to say price isn't important. Price is very important. But what we want to do is play to our strengths and compete within this market when it comes to quality, service levels and range in particular."
Wider remit
Father-of-three Rogers, who has a boat of his own, which he moors in Hamble-le-Rice on the Hampshire coast, will take even more responsibility in navigating Sainsbury's through those waters this year. Just over five months ago, Rogers took on a much wider portfolio encapsulating business development, including strategy and online.
"It's a fantastic opportunity for me personally to take on that broader remit and obviously it gives me a little bit more scope to get involved across the piece, particularly in online, which is an exciting growth channel for our business," he says.
"But there's also the business development side, which is interesting because there's a lot going on in retail at the moment. It's exciting to be driving that perspective of our business.
"What you realise in some of these big roles is that you simply can't get your arms around everything. You have to decide, very carefully, how you spend your time and that's what we should be good at as managers – identifying where we can add value, where we should be intervening, what we should be involved in and what we can let our teams get on with."
New initiatives
Sainsbury's teams certainly got involved in plenty of initiatives in 2015. The grocer is piloting new supermarket and 'micro' c-store formats, testing a SmartShop app that allows customers to scan, checkout and pay for items acquired in stores using their mobile phone, has rolled out its click-and-collect proposition to 100 stores, launched a Tu clothing website and penned concession deals with Argos and Western Union to make better use of excess store space.
Rogers admits the new store formats, designed to cater for rapidly changing shopper habits, are a "work in progress", but vows Sainsbury's will continue to up the ante in its bid to stay ahead of its big four rivals – something he believes SmartShop will become pivotal in achieving.
"It's early days yet, but that is the direction of travel in the sector," Rogers insists. "There is no question in my mind that, within the next few years, you will have customers coming into our stores with their mobiles and we will recognise who they are, we'll be able to navigate them round the store, ping offers to them as they shop and enable them to shop with their mobiles.
"This technology is here today and within the next five years I think you'll see a radical change in the way some of our customers shop our stores. Other customers will continue to shop in the way they have always shopped, but we want to be able to offer that flexibility and that's an exciting evolution for retail.
"If you are pushing the boundaries of what's achievable, there will be certain changes that work and certain changes that don't. If everything worked, my challenge to the team would be: 'You obviously haven't pushed the boundaries enough.' You need to push the boundaries to determine what works and what doesn't, then look at how we can roll out the things that have worked on an efficient basis."
Rogers is clearly determined to spearhead further evolution of the Sainsbury's business, so it would likely take a big effort from rivals this year to wipe those smiles from faces at Sainsbury's.
BEHIND THE COUNTER
Biggest inspiration
When I first joined Sainsbury's, I worked for then-CFO Darren Shapland. He is one of the most inspirational people I've ever worked with. I learned a tremendous amount from him.
Last book you read
One of my favourite books is Perfume by Patrick Suskind. It's quite a bizarre story, but a great book.
Last TV series
I am currently watching The Bridge. The Danish and the Swedes have a real skill for making these quite dark, detective, police-driven dramas.
Last film you watched
The new James Bond film, Spectre. I thought it was really good, great entertainment.
Favourite band/artist
The Pixies – I was a massive fan of theirs and have seen them live so many times.
Last purchase you made
A folding bike. I recently went to Harvard for eight weeks and wanted to keep fit while I was there, so I bought one.