Lidl has unveiled a partnership with a Michelin-starred chef as part of its drive to provide high-quality ingredients for its customers.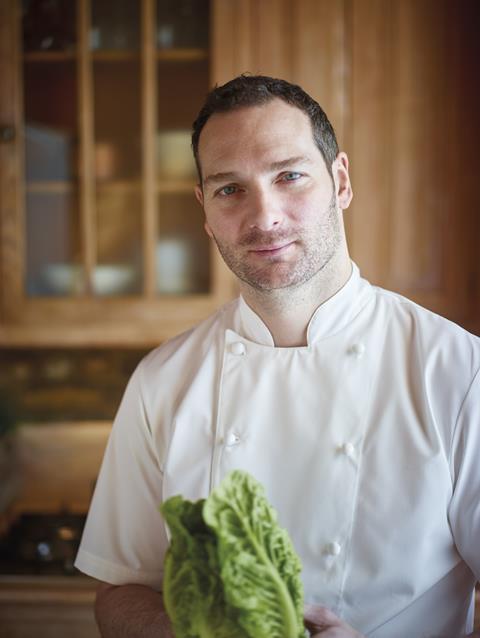 Kevin Love started his career in a Wimpy, washing dishes and flipping burgers. And that was where he became fascinated with cooking.
"I realised I had a bit of a flair for it," he tells Retail Week. "Despite trying different career paths, cooking was the only one that stuck."
At age 19, Love spent five years in the Catalonia region of Spain and by accident found himself working at the Michelin-starred El Raco de Can Fabes restaurant, which reignited his love for cooking.
"I was just good at it, I had no real formal training apart from a few courses in health and safety, and when I came back from Spain I wanted to learn more about being a manager, and beer and wine. So should the time come when I had my own restaurant, I'd be the smartest guy in the room, having trained in all areas," he says.
After a few more stints in restaurants back in the UK his son was born and Love realised he couldn't work the chef hours anymore. He fell into a manager role at Lidl - a relationship that was going to last longer than he thought.
A journey to Heston's The Hinds Head
A year or so later when his son was older he restarted his cooking career and soon after, in 2010, ended up working as a sous chef in Heston Blumenthal's acclaimed The Hinds Head pub in Bray.
"The plan was to try and prove myself. [I thought] 'maybe if I'm really lucky one day I could be the head chef' – it was quite a pipe dream, but that was the plan," he says.
A mere couple of months later, he secured the head chef role and pushed The Hinds Head to win a Pub of the Year award and a Michelin star.
On leaving the gastropub in 2013, he approached Lidl to see how the two could work together.
Firstly, Love and Lidl opened a pop-up restaurant in East London in the four weeks leading up to Christmas 2014. Deluxe was dubbed a 'non-restaurant', and served dishes such as smoked reindeer with pickled blackberries. It provided diners with recipe cards at the end of the night to help them recreate their meals at home.
And he has now embarked on a three-year partnership with Lidl as chef-in-residence – a first for the grocer. He will be involved in new product development, help source Lidl's own-brand goods, and create recipes.
"Who is this guy?"
Compared with high-profile chef and grocer tie-ups such as Jamie Oliver and Sainsbury's, and Blumenthal and Waitrose, Love believes his feels more credible.
"When a supermarket approaches a celebrity chef they are hoping it will add something to their brand, that having their face and having them work on stuff in the store will help with their sales," he explains. "But the thing with me is that I'm a nobody. In hospitality I'm very well-known but that's not the customer world.
"If people start splashing my face around, they will think 'who's this guy?' And the fact that I was a store manager all those years ago makes it more real."
A different kind of kitchen
He says there is a huge difference between working in a restaurant kitchen and working in Lidl's kitchen. "A lot of my time is taken up thinking about things, developing food and talking with suppliers," he says. "It's a tricky process - I can cook an amazing pie, but the suppliers won't be able to replicate it like that."
He says he also has to think more about salt and sugar content. "Lidl has signed up to reduce salt – which is great – but there are limits to what you can do."
"I try to work with the suppliers to see how they produce at the moment, and how I can help," he says. "Finding out what all those processes are and looking at how we can manipulate the process to make it better and tweak."
Love says working with Lidl consists of all the best bits of being a chef without the drawback of the 18-hour days.
"Chefs thrive on meeting suppliers and farmers and using fresh produce to create new things, which is essentially what my job is here full-time," he says. "But at The Hinds Head you still had lunch and dinner to fit in. And as much as I love that, food development is where you can get your creative hat on, which is what I'm doing with Lidl right now."
Love believes it is an exciting time for the grocer. "The thing is the produce is really great, but people are not sure of the model or how can they sell this great produce at a great price," he explains.
"People think the produce might not be great – but that's not true. They just don't have the overheads that the other grocers do."
Recipes
At the moment, Love is in the middle of creating his first 10 to 20 products for Lidl's Christmas range, but he has already published a number of recipes to coincide with the grocer's Easter campaign.
"I really like the prosecco iced dessert," he admits, and describes a dessert with a cocktail theme, combining mashed cherries, prosecco granita and a creamy cherry topping. "It has lots of textures, flavours and temperatures."
For Easter Sunday lunch he has created a recipe for lamb with fresh peas, beans, chargrilled baby gem lettuce and a salsa verde.
Not bad for a chef who started out washing pots and pans in a burger bar.