Aldi's disruptive model has led to an historic structural shift in grocery. And it's only just getting started.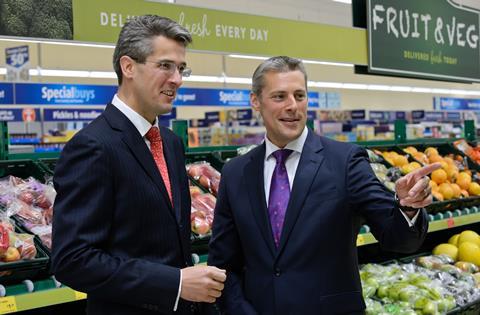 Back in 2010, Aldi wasn't doing so well – at least, not by its own high standards – and joint managing directors Matthew Barnes and Roman Heini, both new into their roles, wanted to know why.
Their findings led to an extensive shift in strategy that four years later led to them overpowering, outpacing and out maneuvering established grocery giants.
Aldi – along with, to a lesser extent, its German rival Lidl – has helped lead a seismic shift in the grocery market and disrupted market leaders that had for so long had it their own way.
By focusing on quality products at knock-down prices, not to mention a speedy shopping experience, Aldi has wooed the British public. And it's not just a passing crush. Like it already is across swathes of Europe, the German discount grocer is now a permanent feature of the UK grocery market.
And it's growing at an astonishing rate. UK and Ireland turnover jumped 35.7% to £5.27bn last year. Operating profits surged 57.7% to £271.4m. And Barnes and Heini said in the first half of 2014, growth has accelerated, and this is reflected in Kantar market share data that shows in the 12 weeks to September 14 Aldi's share jumped from 3.7% to 4.8% year on year.
Nielsen data shows that in August Aldi attracted 1 million more shoppers than the same period in 2013. It has made these gains in a period when the big four are fighting fiercely on price in an effort to regain ground lost to the discounters.
Investment in buying
In an unusually frank interview for Aldi, Barnes and Heini – sat in the grocer's surprisingly swanky UK headquarters in Atherstone, Warwckshire – reveal the grand plan assembled in 2010 that led to such meteoric growth. "We conducted a huge amount of research to understand why we weren't as successful as we were in other countries that Aldi operates in," says Barnes.
"Customers felt our product range wasn't broad enough, they felt our range wasn't British or fresh enough, and it was also very clear that customers didn't understand the Aldi brand. If you go to Germany, Austria, Switzerland, the Aldi brand stands for something so clear it's almost got iconic status. Here, people were luke warm about it."
"We are as British as they come, over 51% of our sales are now sourced within the UK"

Roman Heini, Aldi
That recognition led to a huge investment in Aldi's buying operation as the retailer widened its product range to 1,350 and crucially, upped the proportion of British food and fresh, which Barnes says has been the "backbone to our growth". Heini adds: "We are as British as they come, over 51% of our sales are now sourced within the UK."
And for three consecutive years Aldi's meat range has grown at over 60%, and its fruit and veg range by a similar level. That growth has helped propel Aldi's average basket size to 17 items, ahead of Tesco, Sainsbury's and Morrisons. "Our goal was to convert Aldi from a top-up destination to a full shop," says Barnes. "We're still on the journey of convincing the British consumer we have everything under one roof."
The two say Christmas is a golden opportunity for Aldi to show off its wares and convince consumers they can do their whole shop at Aldi. This festive season, under its new tag line 'Christmas with all the trimmings', Aldi will sell caviar for the first time, reflecting the breadth of its customer base and also their desire for aspirational products. Selling at £9.99 for 20g, caviar will sit alongside fresh dressed crab, fresh lobster, a whole goose, and rib of beef.
Aldi will also launch its second incarnation of its tablet Medion S10346 this Christmas.
"We're leading the market now because we're doing something others don't do," claims Barnes. "That's the nucleus of our offer. It comes down to unbeatable prices, and unbeatable quality and value of our offer. Customers are embracing that more and more."
Focus on price
Aldi may be selling upmarket produce and expanding in to technology products, but it has not taken its eye off its core discounter model. Price remains at the heart of everything it does. And the two bosses scoff at attempts by the big four to play it at its own game. This year, Tesco, Morrisons, Sainsbury's and Asda's big price offensives sparked a grocery price war as they tried to claw back ground lost to the discounters.
"If anything the price war has benefitted Aldi"

Matthew Barnes, Aldi
But the duo says their tactics won't work. "If anything the price war has benefitted Aldi," says Barnes. "With all the clamour around reducing the gap on Aldi, the psyche of the British consumer has been to examine what value means. And that's just played perfectly into our hands.
"The acceleration of our growth since the price war has begun is testament to the fact we are more than ever resonating with customers. We've invested an awful lot over the last six months to make sure we maintain our price position, and our price gap against the competition is as compelling as it's ever been."
Heini maintains: "If there is a price war we will act accordingly and maintain the price gap. Price is part of our DNA. We won't allow any competitor to have any advantage."
Aldi has stayed true to its word. According to Nielsen data Aldi reduced prices along with the market when the price war intensified in February of this year, with the average price of its products falling from £1.18 per pack to £1.11 in August.
Stealing market share
Both bosses claim Aldi is stealing custom from across the board. "It's not one more than the other," says Heini. "The market isn't growing overall. So we're taking from the market and that affects most players."
They say a big driver of growth has been Aldi's unwavering everyday low price (EDLP) stance, and Heini claims Aldi is the only true EDLP grocer. "The amount we sell on offer is 6%, the rest of the market is around 30%, sometimes up to 40%," he says. "Consumers are a bit cynical about promotions. They want a straight, predictable pricing model."
But how is Aldi able to keep prices so keen? Through its lean business model, says Barnes. Efficiencies include displaying products in the packaging used during delivery, a packing area beyond tills that reduces queuing at checkouts and means fewer staff are required; and a cost effective logistics operation. The savings it makes are reinvested into products to keep prices low.
"UK retailers are certainly leaders when it comes to innovation, choice, and service to the customer"

Matthew Barnes, Aldi
Its narrow range also helps. Aldi stocks just 1,350 SKUs compared with some of the larger grocers that stock up to 40,000, meaning it can invest its margin in a narrow range of products rather than spreading it thinly across a massive range. The fact that 95% of its products are own label is critical.
It is a model that differs quite substantially to the UK market, but has had success in Europe for some time. Barnes says the UK grocers are following suit.
"The UK grocery market is fantastically competitive," observes Barnes. "It's often looked at around the world in very positive terms. UK retailers are certainly leaders when it comes to innovation, choice, and service to the customer.
"But there's no doubt there's been a structural change in the last few years and businesses have been realigning their margins in line with the continent, and that's a really exciting time for the customer. We believe our influence on that has been huge."
Barnes says UK supermarkets are having to "learn to be more efficient". "Running 45,000 products out of a huge hypermarket is a costly business," he says.
Convincing British shoppers
But Heini and Barnes are on a mission to convince British consumers that Aldi stands for more than just price and efficiency.
Heini admits that for new customers Aldi's high proportion of own label can be "a bit of a hurdle" but that when they realise the quality and value they are hooked, and its products routinely win awards. Its Diplomat Berry Fruits tea beat Harvey Nichols' much more expensive equivalent in a recent taste test.
Meanwhile, Aldi's own-brand Spanish Toro Loco wine has been voted one of the world's best Tempranillo's. Not bad for £3.69. Aldi only sells one Champagne, and no wonder given the plaudits it has received. The grocer's £11.99 Champagne Veuve Monsigny beat luxury versions, including Moet, in a taste test by experts.
Aldi's premium Specially Selected range makes up 5% of total sales, up from 1% in 2010. And it is just about to launch a premium range of wines, branded Artus, and priced at £10.
But while many column inches in the papers have been filled with Aldi's surprisingly high quality produce, the shopping experience at Aldi, which first launched in the UK in 1990, is often perceived as a no frills, basic affair. Even the products are proudly displayed in boxes straight from the factory.
But Barnes shuns any ideas that the grocer ignores the customer experience. He says the simple lay out and speedy tills means customers can get in and out in half an hour, compared to up to two hours in larger stores. Till belts are 40% faster than in other grocery stores, Barnes claims, and packaging features large barcodes- sometimes two – that are more easily picked up by the speedy 3D scanners.
Aldi is investing in extending car parks and family initiatives including more baby friendly trollies.
Barnes also highlights the surprise element afforded by the grocer's Special Buy section. Products come in every Thursday and Sunday and when they're gone, they're gone. Lines are usually seasonal, such as Back to School or Halloween.
"Our customers love the shopping experience in Aldi, it has all the theatre it needs," Barnes says.
Customer service
Much work has gone into upping customer service standards. Every store now gets a mystery shopper visit every week. "We were not close enough to the customer, that was very clear," says Barnes. Now Aldi organises focus groups and store walks with customers, as well as listening panels. "We have put the customer at the heart of everything we do," says Barnes.
But the duo know there is more to be done. Customers have complained about the difficulties of locating products, so Aldi is rolling out an "extensive" in store directional signage fit out next year to aid navigation.
"We have put the customer at the heart of everything we do"

Matthew Barnes, Aldi
Other improvements to the store estate will include a roll out of extra chillers to boost Aldi's growing fresh fruit and veg offer. By the end of October Aldi will have invested £30m installing over 5km of chilled cabinets to help it tap into the fresh market. Heini says that over 55% of Aldi's sales are in fresh produce, and it's a growth engine of the business. "There's more scope to grow that but we're mindful of complexity, we don't just want to add more costs," he says.
Two bosses are better than one
Discount sensibilities run through the very core of Heini and Barnes, both Aldi lifers. Heini has worked in his home country of Germany and also Switzerland for Aldi, while Barnes joined Aldi's famous graduate scheme in 1997, becoming an area manager in Yorkshire, before heading to Australia.
With their fifth anniversary of leading the UK approaching, the two reflect on the benefits of working as a duo. Heini concedes that having two bosses that share responsibility for everything is unusual in the British market. But for Aldi, it is the norm; when the grocer reaches a certain size in a country, it employs two people to head it. "It's unique in the market place but a powerful set up," says Heini. "Having a second opinion on the same level can be enriching."
Barnes says: "The 'two minds are better than one' theory is absolutely the case here." Both bosses keep a keen eye on the detail, and even taste test every new product.
Heini and Barnes do not have to report to a chairman or a board like most companies. "It's just the two of us reporting to the international board in Germany," says Barnes. "The independence we are given falls hand in hand with the fact there are also two of us. We wouldn't want it any other way."
Barnes says Aldi UK operates with plenty of autonomy. "The beauty of Aldi's model is that it is decentralized," he says. "We have our core discounter principles but we also accept the fact that markets are different. Our journey here has been very much driven by what the UK customer needs."
Both Heini and Barnes have worked in other countries for Aldi. How do UK shopping habits compare to other countries? British consumers love brands, and they love promotions, observes Barnes. And those two things initially caused problems for an EDLP grocer like Aldi. "It has been our biggest struggle over the years, far more so than in any markets," says Barnes.
Heini notes that British shoppers also expect excellent customer service
It is perhaps the desire to get these messages across – that Aldi own label is as good as any brand and that its EDLP stance is more transparent than promotions – that has led it to raise its public profile.
"Certainly in the past we have been accused of being secretive," says Barnes. "But we've learned it's better to help people understand than to keep people guessing. It's become clear that the appetite for understanding Aldi is growing."
New stores
Moving forward, the two see huge scope to grow through opening new stores, widening the product range further and convincing more Brits to shop with them, and the business is investing £600m in the next two years to realise its aim. Aldi is accelerating its store opening programme and plans 54 this year and 65 next year, taking its total to 600. There are plans to have 1,000 by 2022
An ecommerce offer, however, will not form part of Aldi's growth strategy any time soon. The two note that online is the fastest growing part of the grocery market, but it is clear the online model does not fit with their discounting ethos. "We certainly have no plans to go into a business model where we only know one thing, and that is it will increase our cost base," says Barnes.
"We still have a comparatively low market share, there's a still a lot to aim for"

Matthew Barnes, Aldi
When there is so much opportunity for store expansion for Aldi, you can't blame his approach. Barnes says that from day one new stores are achieving higher average sales than the business average, despite many of them going into new areas for Aldi. "I think our marketing has been very effective in talking to people even though they don't have access to an Aldi," says Barnes.
"But we still have a comparatively low market share, there's a still a lot to aim for."
What is Aldi's overall goal for the UK then? How big could it be? It's already "knocking on Waitrose's door" as Heini puts it, referring to Aldi's rising market share which is set to match or even overtake the upmarket grocer. Kantar data shows that Aldi's 4.8% of the market compares with Waitrose's 5.1%.
Are there ambitions to overtake the big four? Barnes insists the only ambition is to focus on the customer. "We don't have any goals to be bigger than anyone else," he says. "When we get to 1,000 stores in 2022, our market share will be what it will be. But the energy in the business, the passion as to what we can achieve is palpable, and a force to be reckoned with."