Waitrose sales were up 9.6% last week as it benefitted from John Lewis shoppers picking up click-and-collect orders in its stores.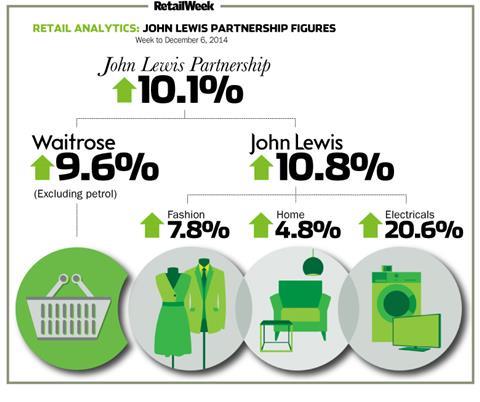 Waitrose sales totalled £139.35m last week, when it generated the strongest sales growth so far this financial year, with the exception of Easter.
The grocer said it benefitted from extra footfall as record numbers of John Lewis click-and-collect orders were picked up from Waitrose's stores following Black Friday.
Waitrose said it also benefitted from growth in its online arm, where sales increased 25.5% as customers "started preparing for Christmas from the comfort of their own homes", according to Waitrose commercial director Mark Williamson.
Grocery click-and-collect sales surged 318%.
Williamson added online delivery slots for the week of Christmas are "proving hugely popular".
Sales on the grocer's online wine shop Waitrose Cellar were up 40% "as customers stocked up for the festive season". The performance was boosted by strong sales on Cyber Monday, up 56% on last year, when Waitrose Cellar was taking an order every minute.
Sales on its new specialist pet website, WaitrosePet, were up 13% on the previous week as shoppers stocked up on Christmas gifts.
Waitrose said key seasonal items such as Christmas trees are "selling well" while festive decorations were up 103%.
Earlier this week John Lewis reported sales at the department store retailer rose 10.8%, with price matching helping to boost trade.