Warm weather, the Wimbledon tennis tournament and the Ashes boosted Waitrose sales last week with revenues notching up 4.4% on last year.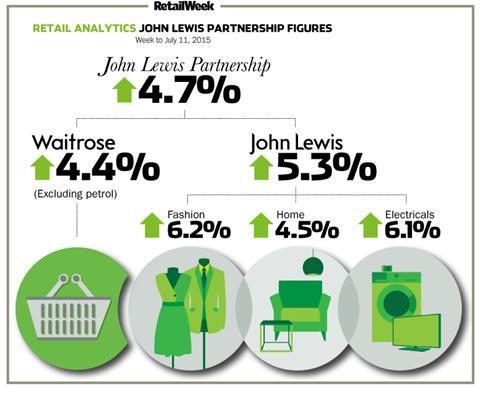 In its weekly update, the retailer said that in the week to July 11 quiche sales jumped 30%, while sales of mini melton pork pies soared 66%.
Cool bag sales rose by 106% and sales of melamine dinnerware, were up by 178%.
Mini bottles of fizz, including San Leo Prosecco, were a best-seller, with sales up 82% compared to the week before, the retailer said.
At John Lewis, sales rose 5.3% on the prior year despite the disruption of the Tube and rail strike and the hot weather, the retailer said.
Electricals and home technology boosted the performance, with sales up 6.1%.
Home delivered year-on-year growth of 4.5% with big ticket, outdoor living and furniture being the main driving forces, the retailer said.
Across the John Lewis Partnerhship, year-on-year sales last week rose 4.7%.