Waitrose sales received a boost from celebrations for the Rugby World Cup final and Halloween last week as sales of spirits jumped 16.5%.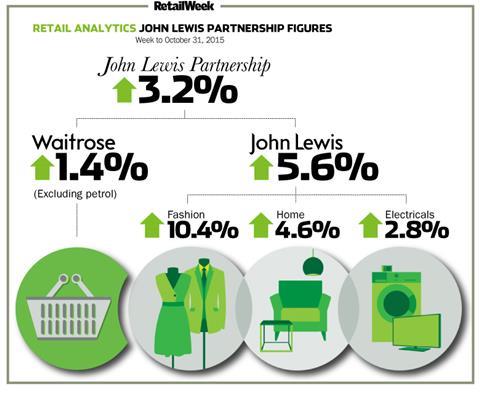 Shoppers hosting parties at homes during the events resulted in gin and whisky sales both up 36%. Ale sales increased 15%.
Popular food items, in the week to October 31, included sweet potatoes, which were up 37.4%, and organic potatoes, up 22%, as people made warming winter dishes, Waitrose said.
Total sales at the grocer in the week rose 1.4%.
At its sister retailer, John Lewis, customers got into the Christmas spirit as online searches for advent calendars jumped 219%.
Overall online sales at the department store group rose 19.7%, driven by fashion, up 32.8%. Online womenswear sales climbed 43.2%.
Total fashion sales increased 10.4%, while home sales rose 4.6% and electricals revenue climbed 2.8%.
Total John Lewis sales in the week increased 5.6%.
Across the John Lewis Partnership sales in the week rose 3.2% year-on-year to £224.05m.