Sales at both John Lewis and Waitrose fell last week as the timing of Easter and challenging trading conditions took their toll.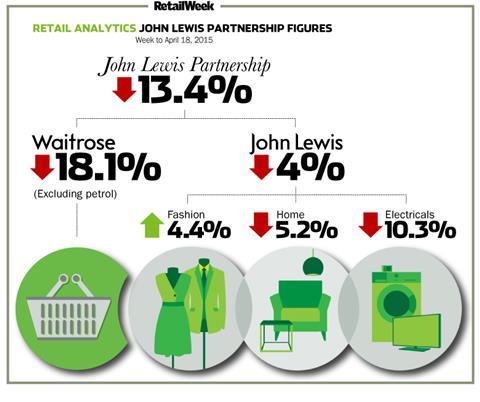 John Lewis sales fell 4% last week to £71.57m as the timing of Easter "continues to distort the comparisons" and warm weather hit demand.
John Lewis managing director Andy Street said the same week last year "saw the build-up to the Easter weekend, and thus it was no surprise that we fell short of 2014's sales".
Street said: "The challenge was compounded by early summer weather across most of the country, which certainly took customers' attention off shopping. As a result all of our shops missed their 'against' figures."
However, online sales "continued to thrive with the convenience of click-and-collect remaining popular", according to Street.
Fashion sales rose 4.4% driven by shoes, womenswear, childrenswear and summer accessories.
But home sales fell 5.2% despite outdoor products selling well. Electricals and home technology sales tumbled 10.3%.
Street said John Lewis is trading in a "challenging and changing market" but highlighted the retailer is up against strong figures from this time last year. "We should not underestimate the stretch of the figures from the first half of 2014 when we performed particularly strongly," Street said.
"John Lewis has navigated a challenging market before, and therefore we can be confident that we will once again. With Easter behind us we can now concentrate on demonstrating just that."
Figures distorted by Easter
At sister retailer Waitrose sales excluding petrol plummeted 18.1% last week, but the grocer insisted that "although it looks dramatic this isn't a meaningful number as the figures are completely distorted by the fall of Easter".
Waitrose, which generated sales of £121.73m in the week, said the "drag effect of food price deflation on fresh produce also continues to be apparent".
It said the price of an iceberg lettuce this year is 60p compared with £1 last year, and a pack of mixed peppers now costs £1 compared with £1.75 a year ago.
"However, a busy week of sporting activity – with the FA cup semi-final and the Bahrain Grand Prix on Sunday – did drive sales of quick and easy meals," said Helen Hyde, personnel director at Waitrose.
Warm weather helped sales of sun care products and ice cream while lumpfish caviar was up 9% as shoppers aimed to impress with their alfresco dinner parties, Waitrose said.