John Lewis recorded a 23.6% increase in sales to £113.4m last week as its Clearance Sale enticed shoppers.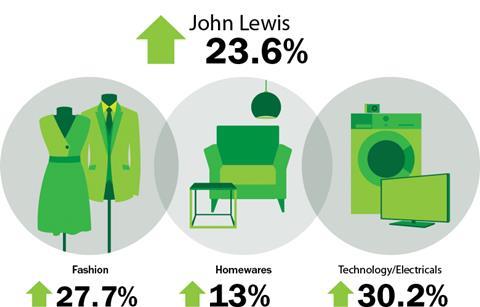 John Lewis said "horrendous weather" did not deter shoppers from visiting its stores while online sales were also strong, up 34.4% on last year including a 61.8% increase in click-and-collect orders.
Electricals and home technology continued to perform strongly, with sales up 30.2% in the department spurred by Clearance prices on large electricals items and strong sales of tablets.
Fashion also performed well, up 27.7%, with own brand in double-digit growth. Sales in its home department were up 13% with record sales for its lighting category.
John Lewis retail services director Barry Matheson said: "Despite the wind and rain that continually battered parts of the UK, our customers seem to be made of resilient stuff. New space performed particularly well with Tamworth, Newbury, Swindon, Poole, Leicester and Stratford City all at around or above the 30% mark as customers in those newer catchments increasingly appreciate the value of our Clearance offer.
"A lot of hard work has been done throughout the year and, as we move towards the final few weeks of the trading year, our attention needs to focus on the remaining Clearance period and the vital task of stocktaking."
Waitrose also delivered a strong week as sales rose 10.3% to £117.8m following its best ever Christmas, which it reported on Wednesday.
The grocer said sales of premium own-brand ranges, its price competitiveness with rivals and its multichannel offer had all contributed to the festive uplift.