The Great British Bake Off final cooked up a sales increase at Waitrose last week as John Lewis also recorded strong weekly results.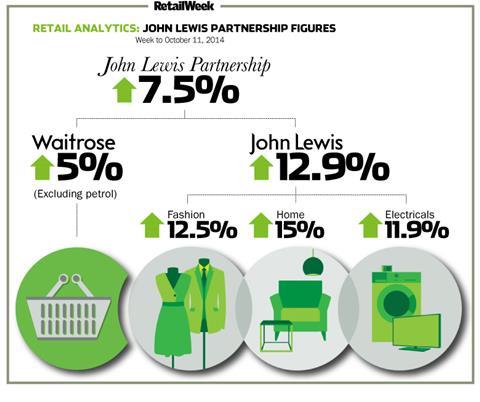 Sales excluding petrol increased 5% to £120.6m at Waitrose as demand across home baking surged 25% in the week to October 11.
Sales of colours and essences increased by 40% while demand for eggs was up 13%. Baking ingredients were up by 30%.
The Bake Off finalists made Victoria sponge and lemon tarts, which whet the appetites of Waitrose shoppers. Sales of the former were up 42% and the latter by 75%.
Sports fans stocked up on goodies as they stayed in to watch events including European football qualifiers and the Russian Grand Prix; fresh pizza sales jumped by 18%, and world beers by 13%.
Waitrose sold 1,200 umbrellas in the wet weather.
At sister retailer John Lewis sales were up 12.9% to £80.59m last week as the cooler weather sparked demand for winter goods.
The best assortment growth came from the home department, up 15%. "Sales of big-ticket items were well supported by both pick-up and gifting", noted Tim Harrison, John Lewis director, store development.
In fashion, both umbrellas and sunglasses were up, "illustrating how diverse the climate has been", said Harrison.
Electricals and home technology sales jumped 12%, with tablets and computers up 17%, boosted by a price match early in the week.
Both shops and online had "good increases". Chichester, Poole, High Wycombe, Ipswich and Chester were the best performing shops.
The retailer's Heathrow shop recorded a record week.
Online sales "continue to be strong, along with good traffic conversion", Harrison said.