Waitrose and John Lewis have revealed a healthy rise in sales for last week boosted by customers gearing up for Easter and warmer weather.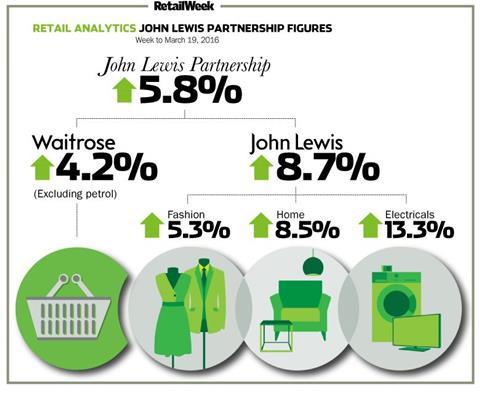 Sales at Waitrose in the week to March 19 increased 4.2% to £129.15m, excluding fuel. Online sales jumped 13.7%.
The grocer, whose boss Mark Price stepped down last week to take up a role in Government, said sales of seasonal confectionary are "accelerating" with large-sized eggs proving particularly popular this year ahead of Easter.
Guinness sales leapt 40% off the back of St Patrick's Day celebrations, while overall beer sales rose 6% which Waitrose attributed to the Six Nations, high-profile football matches and start of the Grand Prix season.
At sister retailer, John Lewis, sales in the week climbed 8.7% to £75.06m.
Fashion sales rose 5.3%, with menswear up 8.8%. Sales of clothing for warmer weather increased as the first signs of spring emerged.
Beauty, wellbeing and leisure sales were up 4.7%, with new products from Jo Malone and Mac make-up selling well, the retailer said.
Electricals and home technology sales rose 13.3%.
The John Lewis Partnership as a whole posted a 5.8% rise in sales to £204.21m.
Earlier this month the partnership reported a 10.9% drop in full-year pre-tax profits, as sales and earnings at Waitrose slipped.
Price has been replaced by Waitrose' retail director Rob Collins. On JLP's board, British Airways' executive chairman Keith Williams will replace Price as the retail group's deputy chairman, it was announced today.