An investigation by the CMA has found there is evidence of misleading pricing by supermarkets, but the practice is not widespread.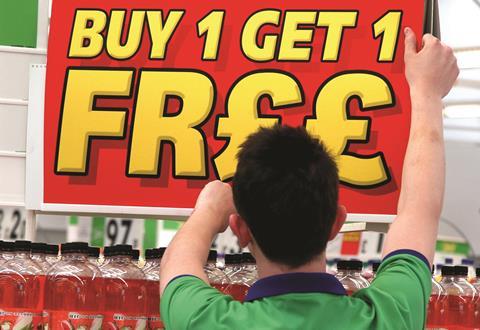 The CMA said that retailers are taking compliance "seriously". Here is how the industry and observers are responding:
British Retail Consortium
"We welcome the broad conclusions of the CMA's response today to the Which? super-complaint. While the CMA report noted a limited number of specific examples of potentially confusing practices, it has concluded quite clearly that these problems are not systemic across the industry as we have always maintained.
"We also note that the CMA found that retailers take compliance seriously to avoid such problems occurring which we welcome in today's report.
"Throughout the investigation, the BRC has maintained consistently that promotion issues are best dealt with through the ongoing review of the Pricing Practices Guide, which has been in progress for over a year. We are pleased that the CMA's report today agrees with this approach.
"It is very clear that the allegations contained in the super-complaint were blown out of all proportion"

Tom Ironside, BRC
Business and regulation director Tom Ironside said: "It is very clear that the allegations contained in the super-complaint were blown out of all proportion and that the CMA recognises supermarkets take compliance seriously. Our members will continue to work closely on the Pricing Practices Guide to ensure transparency and fair treatment for our customers."
Aldi
"We thank Which? for bringing the issue of price transparency to the regulator's attention. Customers want clear, simple and consistent pricing wherever they shop, not misleading and confusing gimmicks.
​"At Aldi, we are committed to everyday low pricing. Less than 10% of our products are on promotion at any one time, exclusive to fresh meat and produce, compared with over 40% of products across the market.
"We have a fundamentally different model and approach to other retailers, which is based on providing the lowest prices in grocery in a simple and transparent way for our customers. This is why more and more people are switching to Aldi."
Bryan Roberts, Kantar Retail senior vice-president and knowledge officer EMEA
"The CMA's findings confirm that there is no systematic brinkmanship by supermarkets and that compliance by the major players is generally pretty good.
"There is clearly work to do in terms of unit pricing – something that several of the retailers have realised and are already improving – and supermarkets need to raise their game with regards to the smoke and mirrors around price establishment.
"We maintain our view that the best deterrent against these smoke and mirrors will be the ongoing success of the German discounters rather than regulatory meddling."
More to come…