Retail Week visits Accenture's tech lab in Milan to discover the grocery store of the future.
How we shop is changing dramatically as technology rapidly develops and alters customer behaviour.
At Accenture's purpose-built tech lab in Milan – the Accenture Customer Innovation Network (ACIN) – the consultancy has developed the convenience store of the future and uses technology to improve the grocery shopping experience and increase the efficiency of stores.
The store showcases intelligent shelf-replenishment. Cameras point at each shelf and identify when an item has been removed. When the stock on that shelf is running particularly low, an automatic alert can be sent to the nearest warehouse informing it that the item needs to be replenished.
This level of tracking, which enables retailers to manage the supply chain in real time, removes the risk of an item running out and a potential sale being lost.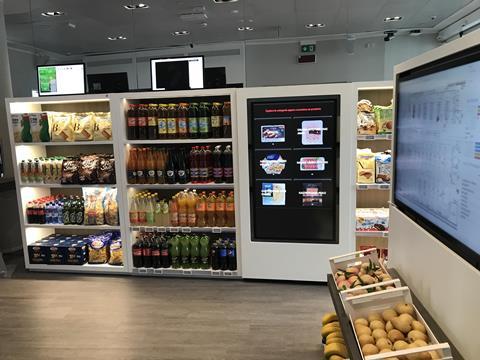 This technology could also reduce the number of staff needed in-store stacking shelves.
In reality, the necessary backend systems would need to be in place to action the camera's alerts, but in theory, it's an attractive idea.
Font of knowledge
Accenture also showcased its in-store digital touchpoints. The idea is that, as shoppers become more discerning about what they eat, they can scan or search for an item they are interested in to view its origins and nutritional information.
The software can then suggest alternatives or complementary items. A virtual assistant/chat bot can be integrated too to give specialist wine advice, for example.
From the retailer's perspective, it can be a useful gauge of how much interest a product generates, and at what time of day.
If shoppers show interest in an item and yet sales of it are poor, there's an opportunity for the retailer to work with the supplier to improve its quality, for example.
As well as having digital touchpoints in-store, a mobile app can be developed to work alongside it.
Once grocers know who bought what, and when, they can send personalised alerts to customers and use the info to anticipate their needs and improve the overall experience.
Coop's supermarket of the future (see photo gallery)
Coop – Italy's market-leading grocer – has been working with Accenture to create its first Supermarket of the Future, in which some of the latest technologies are being put to the test.
As shoppers increasingly demand that retailers and brands be more authentic, Coop wanted to bring its brand values to life in its stores.
Digital touchpoints help Coop communicate its core value of transparency and flaunt its ethical credentials because they enable the health-conscious shoppers who frequent the store – located close to a gym – to check the contents of items before they buy.
The spacious 9,000 sq ft store also includes points of entertainment for shoppers – selfie-taking technology, for example – and a restaurant that cooks only with Coop's own-brand products.
But it is a work in progress.
As impressive as they look, the overhead screens – which display product information – were not easy to use. They require shoppers to perform a tennis-like arm swoop to scroll between products, and the information is difficult to read.
Is this the future of grocery retail? @Emily_L_Hardy practising her forehand #coop #storeofthefuture pic.twitter.com/bxBkomFPCP

— Andrew Busby (@andrewbusby) May 15, 2018
The system is not yet connected to a mobile app or checkout-free payment, but Coop Lombardia vice president Andrea Colombo says the store is being continuously evolved and will be getting an upgrade in the coming months.
The ACIN is home to numerous rooms and labs where it explores and develops solutions for businesses ranging from luxury fashion to fizzy drinks brands.
Its 'home of the future' and 'bar of the future', for example, investigate the ecosystems through which brands and businesses might interact with customers anywhere and everywhere.
The willingness of a traditional grocer like Coop to reinvent its purpose, overhaul its store concept and experiment with ways to attract new shoppers is encouraging. The grocer is currently working on making the concept scalable and introducing elements of it across its portfolio.
But, as Accenture flags, there's no silver bullet, and the success of the leap from lab to local store depends on the legacy processes that first need unpicking.
However, the "pivot to modern" is under way, and there's inspiration aplenty to be found in Milan.
Exclusive deals on Tech. tickets – this week only!
Accenture is one of the firms speaking at Tech. powered by Retail Week.
Bringing together more than 2,000 people from across the entire retail ecosystem, Tech. is the biggest, boldest and best event for digital leaders and the smartest minds in technology to shape the future of the industry.
Look out for exclusive deals on tickets – this week only – and book before prices go up this Friday. Find out more by visiting tech.retail-week.com