Iceland managing director Richard Walker tells Retail Week how the grocer is juggling its rapid expansion of The Food Warehouse with its sustainability drive.
In a wood-panelled office inside Iceland's Deeside headquarters, the frozen-food specialist's managing director Richard Walker pulls up a chair and straightens his green tie.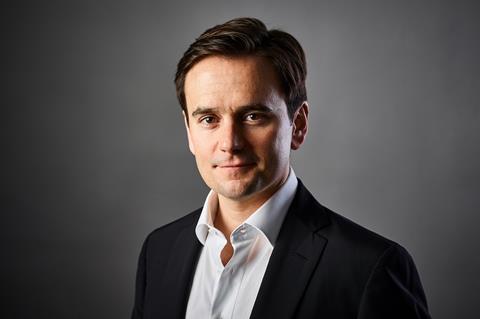 It's an appropriate choice of colour, given the corporate activism Iceland and Walker have blazed a trail in, particularly when it comes to plastic pollution and palm oil.
Just days before speaking to Retail Week, Walker had gone viral online following another candid appearance on Question Time, during which he gave a scathing assessment of the way the government had handled Brexit and called for a second referendum – despite admitting he voted leave in 2016.
But Walker has much more than Brexit on his agenda. The son of Iceland founder and executive chair Sir Malcolm Walker glides through topics ranging from sustainability and the current state of the nation to the new realities of the UK food market and the worrying rise in crime against retail staff.
First stop on his tour of Iceland's priorities, however, is the burgeoning success of its fast-growing format The Food Warehouse.
In the week the fascia launched its 100th store in Blackpool – just five years after its debut shop in Stoke-on-Trent – Walker proudly proclaims Iceland has established itself as "the fastest-growing retailer in the UK".
Led by the rapid expansion of The Food Warehouse format, Iceland is also launching around 20 standalone stores this year and is targeting 40 shop-in-shops at The Range stores. In total, Iceland will open for business in 90 new locations by the end of 2019.
Destination shopping
Walker says The Food Warehouse fascia, which offers a broader range of products – around 4,000 SKUs compared with 3,000 in an Iceland – larger pack sizes across a number of categories and a broader general merchandise range, has tapped into consumers' promiscuous shopping habits and a flight to value.
"The reason The Food Warehouse works is because we're not cannibalising Iceland store sales," Walker says. "Iceland is on the high street and is very much a secondary, top-up shop, whereas these are by definition more destination, because they are drive-to with a lot of parking outside.
"We cannibalise maybe 10% of sales, which is pretty good because that means we're taking 90% of business from other competitors." Walker, taking a leaf out of his father's playbook, smiles when asked which rivals The Food Warehouse is taking business from, declining to name names.
"We genuinely changed the market. Plucky old Iceland, with a 2% market share and a tiny footprint in terms of palm oil purchases globally"

Richard Walker, Iceland
There is no doubt that since launching in 2014, the fascia has come to play an increasingly important role in the wider Iceland group. Based in out-of-town retail parks and double the size of a standard Iceland store, at around 12,000 sq ft, The Food Warehouse has also become a testbed for the grocer's newest products and in-store ideas.
"A mix between a Costco and an Iceland," is how Walker describes it, referencing the discounter-esque general merchandise aisle and catering-sized grocery items targeted at local food businesses, pubs and restaurants.
Walker says Food Warehouse customers tend to have a higher spend as a result of that differentiated offer. The average basket comes in at "over £18", compared with £11.50 in Iceland.
The Food Warehouse's sales and profits were not broken out in Iceland's most recent financial results, but Walker says average store sales at the fascia are "significantly higher" than those at the frozen-food specialist's eponymous stores. He also trumpets that its like-for-like sales are growing ahead of the wider food market.
But despite clocking up the century of stores this week, Walker is far from ready to call time on The Food Warehouse's expansion plan. He is eyeing "anywhere between 300 and 400" Food Warehouse stores across the UK in the coming years.
Sales and sustainability
As The Food Warehouse division goes from strength to strength, the core Iceland business is battling contrasting fortunes, having been hit by challenging trading conditions and increased costs.
Figures covering the 52 weeks to March 29 revealed that Iceland's adjusted EBITDA dropped 8.7% to £140.1m, despite a 2.2% increase in group sales to £3.1bn.
Walker is forthright when asked about the pressures on profitability. "It's part of the reality of the market we're in, that sales continue to grow – we'll do over £3.2bn in sales this year – but we're pedalling faster to go the same speed. That's just a fundamental restructuring of the retail market."
"What's been really disappointing is that there's not more of a consolidated, industry-wide move to properly reduce plastics"

Richard Walker, Iceland
He concedes that competition and costs are only going to increase, as Aldi and Lidl grow at a pace and the likes of Amazon increasingly eye a slice of the UK food retail sector.
"Our EBITDA margins used to be 8.5% and now it's dropped to 5%," Walker says. "This is the new normal. Certainly, the days of the 8.5% EBITDA margins will never happen again."
Iceland's market share has also remained relatively static over the past few years, at around 2.2%, despite the positive coverage it has received by championing reductions in plastic use and palm oil consumption.
Yet Walker says he is unconcerned that campaigns like Iceland's 'banned' Rang-Tan Christmas advert – watched by around 70 million people online ahead of Christmas Day last year – failed to drive sales. His priority, instead, is to start a sector-wide conversation on such topics.
"It did nothing for sales, which considering it's the most-watched Christmas ad of all time, is quite interesting," Walker suggests. "It was never going to because it was about a public awareness and corporate activist campaign. It was never about trying to flog more gear."
He uses Iceland's work on palm oil as a prime example of how such campaigns can change the business narrative. "What I found quite surprising was that we genuinely changed the market," Walker admits. "Plucky old Iceland, with a 2% market share and a tiny footprint in terms of palm oil purchases globally. Everyone was suddenly talking about it.
"By the end of last year, Wilmar, who are 40% of the global palm oil market, pledged new criteria around deforestation, which was an extraordinary result for a piece of corporate activism."
A keen surfer, Walker has also pledged that Iceland will remove all plastic packaging from its own-label ranges by 2023, having seen for himself the levels of pollution in the world's oceans. But he finds it "disappointing" that some grocery retailers aren't making similar pledges, instead opting to focus on making plastic more recyclable.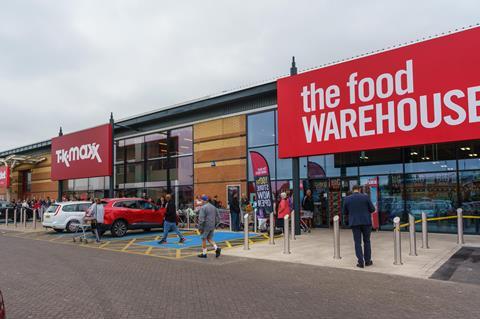 "What's been really disappointing is that there's not more of a consolidated, industry-wide move to properly reduce plastics. We're not just talking about plastic bags here," he says, taking a sterner tone. "But this focus on recyclability is not helpful because if all we do is focus on recycling, we'll just produce ever more plastic, whereas we need to turn it down at the source."
However, he concedes Iceland's stance has come with its challenges. For example, a recent packaging-free trial of produce at The Food Warehouse's North Liverpool store sparked a 20% slump in sales of the fruit and vegetable lines included in the pilot. Undeterred, he has other options up his sleeve.
"The whole nature of our business is convenience and people love pre-packaged products," Walker admits. "We trialled it and sales dropped 20% and that's not sustainable for our business. We stopped that trial but then we've got to come back with a new trial that'll be pre-packaged but without plastic."
Despite acknowledging there are "hard choices and conundrums everywhere" when it comes to running a grocery business more sustainably, Walker is adamant that any costs incurred by Iceland as a consequence will be absorbed by the business, not passed on to customers in the form of higher prices.
He remains focused on "democratising sustainability" and says this can only be done "if it works for everyone", not just affluent consumers.
Looking to the future
On the mention of democracy, conversation turns to Walker's Question Time appearance, and his calls for a second Brexit referendum.
Walker sighs when asked whether his pleas for a fresh vote will be heeded. "I think the Tories will do anything to stop it because it would annihilate the party. Meanwhile, Jeremy Corbyn and Labour need to get off the fence."
The issue is so vexing to him, Walker explains, because he feels his customers and staff are worried about many other things. "We've got this ecosystem centred around London where everyone ferments off each other and thinks that Brexit is the biggest thing on the planet – and it really isn't," he suggests.
Of greater importance to Walker are issues such as a rise in violent crime against his Iceland colleagues. Figures published by the BRC in March recorded over 42,000 incidents of violent crime towards retail workers last year – the equivalent of 115 incidents every day.
"We are a key part of the community, which is why the decline of the high street is such a concern to me"

Richard Walker, Iceland
With staff working across almost 1,000 stores in the UK, Walker believes Iceland has a good understanding of the cross-section of modern Britain and believes the government should turn its attention to fixing communities and the high street, rather than being preoccupied with Brexit.
"Issues such as violent crime are fundamentally about failed government policies and communities," Walker argues. "We are a key part of the community, which is why the decline of the high street is such a concern to me.
"I think that Brexit means politicians have taken their eye off the ball on some of these key issues – these much bigger issues. Day to day, for most people, these things are way more important than Brexit."
Given his eloquence on these issues and his growing public persona as one of the few retailers prepared to discuss such issues publicly, does a career in public office beckon?
Walker laughs but refuses to rule out the possibility. "Maybe one day," he says. "I've got to get rid of the plastic first."