Festive grocery sales hit highest point for four years
Shoppers spent an extra half a billion pounds compared to last year
Grocery market returns to inflation for first time since 2014
Iceland outgrew the big four at Christmas as festive grocery sales climbed to their highest level for four years, according to the latest industry data.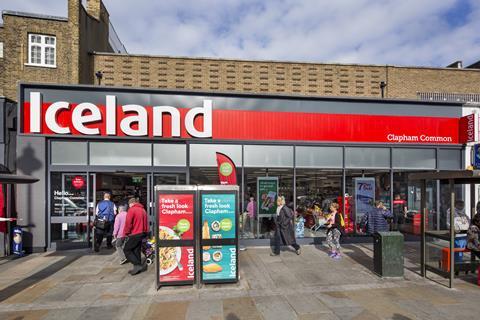 Sales at the frozen-food specialist jumped 4.7% in the 12 weeks to December 31, making it the fastest-growing grocer other than discount duo Aldi and Lidl, Nielsen figures revealed.
Separately Kantar figures showed that shoppers spent an extra half a billion pounds in supermarkets in the 12 weeks to January 1 compared to last year. Kantar also noted that the grocery market has returned to inflation for the first time since 2014.
Iceland, whose boss Malcolm Walker told Retail Week ahead of Christmas that its festive trading had been "f**king amazing", left the fastest-growing member of the big four, Tesco, in the shade.
The market leader registered a 1.9% uplift in sales across the 12-week period, as its market share held steady at 27.6%.
Morrisons was the only other member of the big four to post a rise in sales across the 12 weeks, as revenues climbed 0.5%.
Sainsbury's and Asda suffered sales falls of 0.2% and 1.8% respectively.
Aldi was again the fastest-growing grocer after the retailer's sales spiked 10.4% to take its market share to 6.9%.
Discount rival Lidl posted a 5.8% uplift in the 12-week period, while upmarket grocer Waitrose enjoyed a 3.6% sales boost.
The Co-op and Marks & Spencer were both positive too, registering growth of 3.2% and 3.5% respectively.
Christmas boost
During the shorter festive trading period covering the four weeks ending December 31, takings at the tills jumped 3.3%, Nielsen statistics revealed.
It marked the highest rate of festive sales growth since 2012 – when grocery revenues climbed 3.7% – and a huge improvement on last year, when sales were flat.
Aldi's sales rocketed 15% over the shorter four-week period, while Morrisons was the best-performing member of the big four over that timeframe, growing sales 3.4%.
Consumers left their grocery shopping late this year, as sales surged 22% in the week ending Christmas Eve. Spending in the final two weeks of the year alone hit £5.9bn, Nielsen said.
Mike Watkins, Nielsen's UK head of retailer and business insight, said the strong performance of the grocery sector was helped by retailers simplifying their promotional strategies.
Just 27% of purchases were made on sales or promotions at Christmas, down from 31% the prior year.
"Stronger communication on price cuts and less complicated promotions helped capture the seasonal and discretionary spend which had been 'missing in action' for much of 2016," Watkins said.