Hotel Chocolat boss Angus Thirlwell has shrugged off the impact of rival retailers' "cheap rip-offs" during the crucial Christmas period.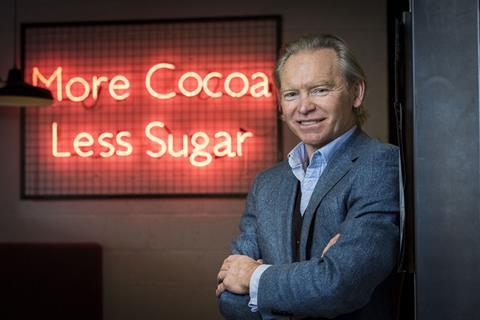 The chocolatier, which floated on AIM last May, posted a 14.6% spike in sales on a constant currency basis in the 13 weeks to December 25, as increases in footfall and the number of items per basket drove performance.
Thirlwell said consumers "ditched sugar-laden cheap chocolate and invested in a smaller amount of high-quality chocolate" during the festive season, and said products that imitated Hotel Chocolat's proposition failed to dent sales.
"It's PR style over substance really. And maybe what we're seeing is the emperor's new clothes situation being revealed"

Angus Thirlwell, Hotel Chocolat
Asked whether premium chocolate lines produced by the likes of Aldi and Lidl this Christmas had hampered Hotel Chocolat's progress, Thirlwell told Retail Week: "Consumers are much savvier than people give them credit for. If they want to give someone a gift of something that is aspirational luxury, then nothing else will do.
"There are always going to be cheap rip-offs – you see it in fashion, you see it in food – and it's nothing new.
"I'm always amazed by how many food awards are supposedly won by the discount retailers, because whenever I taste them, it doesn't correlate with my view of what good quality is.
"It's PR style over substance really. And maybe what we're seeing is the emperor's new clothes situation being revealed."
Web investments
Hotel Chocolat launched a new-look responsive website earlier this month, which Thirlwell said had got off to a "very positive" start.
The new ecommerce platform currently serves customers in the UK, Ireland and Denmark, but Thirlwell said it was working on plans to create sites which accept foreign currency as the business eyes new markets.
Asked whether online would be its preferred route into new countries, Thirlwell said: "We'll look at each market and assess them. But what we know is that the channels work very well in concert – and this Christmas was a case in point.
"I think that's what sets us apart in the premium chocolate market. No other premium chocolate retailer does a quarter of their sales online.
"That's increasingly our competitive advantage. Digital has always been at the heart of what we do and we can't do enough of it."
Hotel Chocolat finance boss Matt Pritchard will be on stage at Retail Week Live, the UK's premier festival of retail and consumer commerce, taking place in London on March 8-9, 2017.
The event attracts over 1,200 retail chiefs and leading business personalities who gather to experience the unique combination of networking, inspiring content, strategic thinking and innovation. To book your ticket visit: www.live.retail-week.com