Grocery revenue by volume bounced back into growth in the four weeks to January 5 as supermarkets upped their advertising spend over the Christmas period.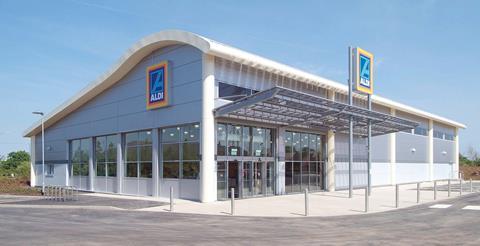 Sales volumes edged up 0.5% year-on-year in the four week period, compared to a 0.5% fall in the previous four week period.
Supermarket sales by value increased 3.7% in the most recent four week period.
Aldi was the fastest-growing supermarket in the four weeks ending January 5, "significantly outperforming the market" with sales growth of 37%.
Lidl achieved sales growth of 11.7%, and Waitrose 9.3%.
"The battle between the top four supermarkets intensified with Tesco just ahead of the pack," said Nielsen.
Tesco sales grew 5.6%, closely followed by Sainsbury with sales up 5.1%.
TV and press spend over Christmas was up by 23% among supermarkets compared with the same period a year ago.
Tesco was the highest spending supermarket on TV and in press advertising this Christmas, splashing out £8.4m in the four week period, a 29% increase on last year.
Asda spent £8.2m, Sainsbury £5.7m and Morrisons £5.5m.
Nielsen UK head of retailer insight Mike Watkins said: "This year's turning point for Tesco was the London 2012 Olympics, and this momentum continued through to the end of the year.
"Advertising and promotions played a key role in attracting shoppers and encouraging them to spend at Tesco."
Nielsen said: "Whilst digital media now plays an important role in shaping consumer behaviour and retailer reactions, traditional media is still the powerhouse over Christmas.
Watkins added: "This was a multi-channel Christmas.
"Many shoppers planned an online grocery shop in the week before Christmas, followed by supermarket visits in the final few days for a big Christmas shop, last-minute indulgences and fresh foods.
"With Christmas Day falling early in the following week, Friday 21 and Saturday 22 December were the most intense shopping days, accounting for 15% of all spend. One in three shoppers shopped on both these days. There were also local top-up shops at smaller and convenience stores pre- and post-New Year.
"We see savvy shopping being the key trend in 2013 with consumers shopping around and looking for the best offers. Therefore, retailers will still need to use promotions and coupons to help drive store footfall. In an increasingly disloyal environment, the battle for the hearts and wallets of shoppers will be top of mind for retailers and brand owners alike."
| | % share, 12 weeks to 5 January | % share, 12 weeks to 7 January | % sales change vs. same 12 weeks year ago |
| --- | --- | --- | --- |
| Tesco | 28.6% | 28.6% | 3.8% |
| Asda | 16.6% | 17.1% | 1.2% |
| Sainsbury | 16.1% | 16.2% | 3.4% |
| Morrisons | 11.0% | 11.4% | 0.2% |
| Co-operative | 6.5% | 6.5% | 2.8% |
| Waitrose | 4.3% | 4.1% | 9.3% |
| Marks and Spencer | 3.9% | 3.9% | 4.4% |
| Aldi | 2.8% | 2.1% | 37.6% |
| Lidl | 2.0% | 1.9% | 8.8% |
| Iceland | 2.0% | 2.0% | 5.1% |