Supermarket sales have risen at their fastest rate in a year and Sainsbury's continued to outperform big four rivals, the latest Kantar data revealed.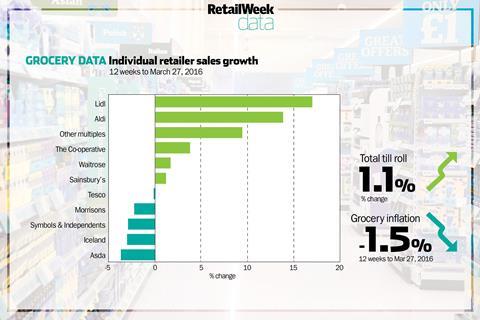 Grocers' revenues advanced 1.1% in the 12 weeks to March 27, helped by a £152m boost from Easter trading.
Sainsbury's notched up a sales increase of 1.2% in the period, during which it continued to rein in multibuy promotions. Its market share was flat at 16.4%.
Spending on deals requiring consumers to buy two or more items together fell by 73% at Sainsbury's.
The data also brought good news for Tesco. For the fourth consecutive month its rate of sales decline fell.
Tesco's sales were down by 0.2% in the period, although its market share fell by 0.3 percentage points to 28.1%.
Kantar Worldpanel head of retail and consumer insight Fraser McKevitt observed: "A small increase in shopper numbers suggests Tesco could return to growth in the next few months – welcome news after 12 months in decline."
The Co-operative achieved a sales increase of 3.9% – its fastest growth since its acquisition of Somerfield in 2011 – and increased its market share by 0.1 percentage points to 6.1%.
It was likely a beneficiary from Easter. Many of its small stores were open on Easter Sunday, enabling shoppers to make last-minute purchases when bigger sites were closed.
Lidl was the fastest growing grocer in the period. Its sales rose 17.7% and it now accounts for 4.4% of the market.