Supermarket sales edge up only 0.1% compared with 1.1% rise in April
Sainsbury's retains market share of 16.5%
Co-operative's year-on-year sales grew 3.3%
Discounters maintain record-high market share of 10.4%
Grocers have suffered a slowdown in growth since Easter, but Sainsbury's continues to outperform its rivals and hold market share.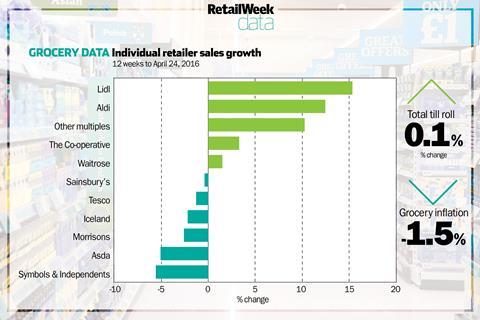 Total sales across all grocers edged up 0.1% to £25.4bn in the 12 weeks to April 24, according to latest Kantar figures.
This is a slowdown from the 1.1% rise reported last month, which was boosted by an early Easter.
Sainsbury's, which this morning reported a 0.9% slip in full-year like-for-likes, retained its 16.5% share of the market. Kantar figures show its sales fell 0.4% – the first time the retailer has seen a decline since last July.
The discounters have maintained a record-high share of 10.4%, which they first reached last month. Lidl was the fastest growing, with sales up by 15.4%, and Aldi sales were up by 12.5%.
The Co-operative's year-on-year sales grew 3.3% and its market share has risen to 6.2% as refurbished stores and improved ranges are driving footfall.
Morrisons sales slipped 2.6% in the 12 weeks. Sales were also down by 1.3% at Tesco and at Asda.
The data shows that promotional levels fell in the last year – in the past 12 weeks 38.5% of spend was on promoted goods, a decline from the 39.8% last April. This change has been most evident at Sainsbury's, where only 7% of deals are now multibuys.
Kantar Worldpanel head of retail and consumer insight Fraser McKevitt said: "Consumers are enjoying a golden period of cheaper groceries, with like-for-like prices falling every month since September 2014.
"Nearly two years of falling prices mean the average household is spending £78.10 a week in the supermarket, so consumers have annually saved more than £400 than [they would] if prices had risen at the same rate as the last decade.
"Yet lower prices are not the result of more groceries being bought on promotion. Retailers are aiming for simplicity in their pricing and only a quarter of promotional spend is now through multibuy deals."
McKevitt added: "Individual households have stopped increasing the amount of groceries they buy and, while it is tempting to correlate lower volumes with the uncertainty surrounding the EU referendum, there is no evidence that supermarket purchasing has any significant link with consumer confidence."
The overall market volume growth of 1% is in line with Britain's increased population.
Findings were supported by Nielsen data, which showed that in the four weeks ending April 25, only 29% of spend at UK supermarkets went on products with temporary price cuts or multibuy offers. This is the lowest level since February 2009.
Over the past two years, around 34% of a typical supermarket shopping bill went on promotional items.
This reflects a move by retailers to make permanent price cuts to combat the discounters.
All of the Big Four saw a decline in sales and nearly half of all households now shop at a discounter every month, compared with 40% two years ago.
Nielsen UK head of retailer and business insight Mike Watkins said: "Prices are lower than a year ago and there's been little sales momentum at the supermarkets since Easter, not helped by the cool weather."
He added: "Some sunshine over the next few weeks could be the kick-start for sales growth the industry needs."