The grocery market is expected to continue shrinking until the middle of next year, as retailers battle deflation and a rapidly changing sector.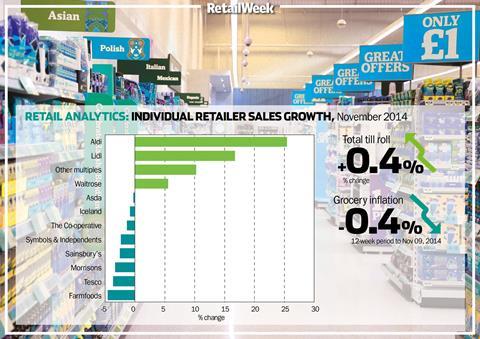 Grocery market sales slid 0.2% over the 12 weeks ending November 9, according to Kantar Worldpanel, the first decline since its records began in 1994.
Fraser McKevitt, head of consumer and retail insight at Kantar Worldpanel attributed the fall to deflation.
"Deflation is 0.4% and we're forecasting that deflation will continue well into 2015. On that basis, it's a reasonable assumption that it's going to continue and that there's not going to be any recovery in the overall market until the middle of next year at least."
He warned that how much the market declines will depend on what grocers do with pricing. "If the price war intensifies, that could take a lot more value out of the market, alternatively, if the big four grocers hit on a formula that attracts shoppers back to their shops with something that differentiates them from the discounters, then we might see growth return sooner."
Volumes are "very marginally up", with small levels of volume growth due to immigration-driven population growth, and because the number of people per home has been declining. "Broadly speaking the increase in volumes is not enough to counteract the difference in prices," said McKevitt.
4.9%

Aldi's record high market share
Over the 12-week period, the discounters performed strongly again. Aldi sales are 25.5% higher than last year and it now has a record high market share of 4.9%. Lidl reported a 16.8% sales increase with its share growing to 3.5%.
Given the strong performance of the discount operators, McKevitt said retailers will be looking at the decline in the industry and thinking quite nervously about Christmas, but the question remains about whether people will trade up for Christmas.
"Traditionally at Christmas, people have traded up – they have tended to go to the slightly more premium retailers. They want to treat themselves, their friends and their families. The discounters have managed to continue their momentum into Christmas; they're spending a lot of marketing to suggest that's what people should do this Christmas."
At the other end of the market, Waitrose is also growing, with sales growth of 5.6% taking its share to 5.1%.
McKevitt said the losers are the big four grocers, but said Asda is doing best of the big four, and has been "managing to hold market share".
A Tesco turnaround?
He hinted that Tesco's turnaround efforts may be gaining traction. "Tesco are still the slowest growing of the big four. They have managed to stem their share losses, so they are no longer losing share at the rate that they were. I wouldn't call it the great Tesco turnaround, but it does suggest that perhaps, just perhaps that they're reaching a bottom."
Asda recorded the best performance among the big four. Its sales have fallen in line with the overall market and share has held steady at 17.2%. Sainsbury's and Morrisons have both recorded a decline in share compared with last year, with sales down 2.5% and 3.3% respectively. Tesco's sales are down by 3.7% although the rate at which it is losing market share has slowed.