French grocery giant Carrefour has reported a rise in operating profits as the turnaround of its European business starts to bear fruit.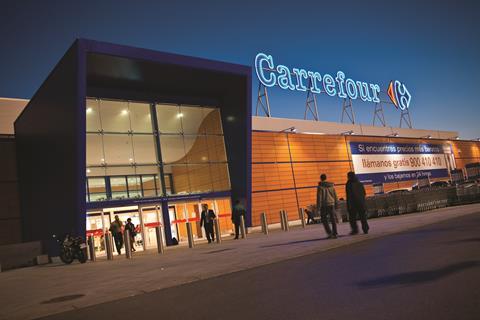 The retailer's profits for the full year jumped 6.7% to €2.39bn (£1.72bn) in 2014, driven by its "back to basics" strategy. Carrefour has been battling to win back customers who have been wooed away by etailers and local shopping destinations, particularly in France.
In 2012 it set out its turnaround plan, which included selling stores in a number of overseas markets to concentrate on its French operation.
Carrefour's French business, which accounts for around half of all group sales, saw operating income rise 6.1% to €1.27bn (£915m). Revenue at its French stores fell 0.3% year-on-year to €35.34bn (£25.48bn) based on current exchange rates.
The figures saw Carrefour increase its capital expenditure, splashing out €2.6bn on revamping stores across Europe, including those acquired from Spanish discounter Dia.
Overall, Carrefour reported sales of €74.7bn excluding VAT and petrol, down 0.2% year on year. Net income rose 0.2% to €1.37bn.
Shares in Carrefour jumped 2% after it bettered its recurring operating-profit target.
Emerging markets
But the grocer's performance in "emerging markets" was mixed. Recurring operating income from Carrefour stores in Brazil and Argentina soared 23.2%, but Latin American revenues overall only rose 0.8% to €13.89bn (£10.01bn).
Carrefour said its performance in China was disrupted by the "frugal consumption environment."