Food prices plunged at the quickest rate in eight years last month as supermarkets continued their discounting war.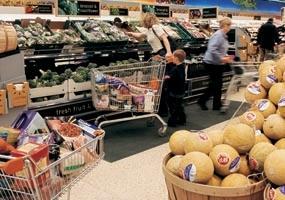 Grocery prices plummeted 0.5% in January compared with the same time a year ago, according to figures from the British Retail Consortium (BRC).
It was the sharpest drop since the BRC's records began back in December 2006.
The steep drop in food prices was driven by tough competition and falling prices of many raw materials, which saw staple grocery products like meat, milk, vegetables and eggs come in cheaper in January compared with a year ago.
Prices of bread and cereals also fell as bumper harvests pushed down the price of grain.
This helped drive January's 0.5% decline in food prices, following a 0.1% rise in December.
The drop in food costs contributed heavily to the drop of 1.3% in overall shop prices, which have now fallen for 21 consecutive months.
BRC director general Helen Dickinson said the figures suggested that 2015 would be a "win-win year for shoppers and retailers alike."
Dickinson added: "Clearly customers were taking advantage of the January sales with good bargains for furniture, flooring and electricals resulting in plenty of stock shifting.
"The halving of the oil price since the summer has helped the retail supply chains with the impact of these falls, continuing to make their way through to shop prices.
"With the outlook for inflation low, the jobs market robust and rising real incomes gathering pace, the outlook for consumer spending looks positive.
"Deflation doesn't always translate into bad news for retailers. The Producers Price Index remains deflationary, so retail businesses will continue to see decreases in their own input costs for the foreseeable future. To remain competitive, retailers will continue passing these savings on to the consumer."