A Thorntons family member who formerly chaired the retailer believes its decline "would have been fatal" had Ferrero not stepped in to acquire it.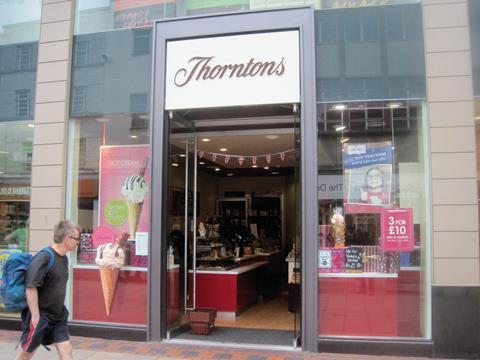 Former Thorntons chairman says retailer's decline in performance "would have been fatal"
Peter Thornton offers to advise Ferrero in their bid to transform the retailer
Ferrero remains tight-lipped on its plans for the chocolatier
Peter Thornton, grandson of the chocolatier's founder who left as chairman in 1987 and later attempted to buy the business, has urged Ferrero to return Thorntons to its retail roots if it completes its £112m acquisition.
"The decline in performance would have continued and I think the decline would have been fatal."

Peter Thornton, ex-Thorntons chairman
The two businesses revealed this week that they had agreed for Ferholding, a Ferrero subsidiary, to acquire the entire stockholding of Thorntons, paying 145p for each share.
It has sparked fresh hope that the embattled retailer and manufacturer can be rejuvenated after it issued a profit warning last December.
But Ferrero has remained tight-lipped on its plans for the retailer, with a spokesman only reaffirming to Retail Week that there would be an "all encompassing" strategic review of the Thorntons business and its operations.
Wrong strategy
Thorntons previous boss Jonathan Hart, who officially departs the chocolatier at the end of its financial year on June 27 after four years at the helm, was pressing ahead with a strategy to focus on its commercial division, supplying goods to grocery partners across the UK while cutting back on the number of retail stores across the UK.
Thornton told Retail Week that strategy was wrong. He said: "A strategy whereby you have considerable sales in supermarkets at very low prices, competing with sales in your own specialist retail stores, could never work and I never believed it could work.
"The decline in performance would have continued and I think the decline would have been fatal."
Thornton admitted the takeover came as "quite a surprise", but said Thorntons still had "considerable profit potential" if Ferrero can restore the "in-store fun and excitement" to the retailer. He also opened the door to working with Ferrero on an advisory basis to help transform the ailing retailer's fortunes.
Uncertain future
Ferrero has revealed that it intends to retain the Thorntons brand and factory in Derbyshire, but has not given any details on its plans for the retailer's 242 stores.
Ferrero said in a statement: "Ferrero cannot be certain what, if any, repercussions there will be for the locations of Thorntons' place of business, or the redeployment of Thorntons' fixed assets or employees and currently has no firm intentions in relation to the foregoing."
Its chief executive Giovanni Ferrero added: "We have long admired Thorntons and what they have achieved in the UK as demonstrated by their tremendous customer loyalty, and we look forward to working with their experienced team."
Thorntons directors said they intend to recommend "unanimously" that its shareholders accept the Ferrero offer, which remains open until July 12.