Discounter Lidl has doubled the number of healthy tills in its store estate to 1,200 after seeing an upsurge in traffic through the snack-free checkouts.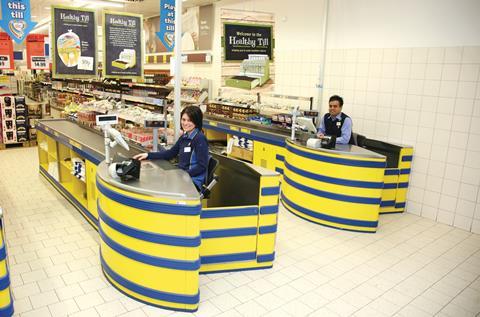 Lidl introduced the tills, which replace 'treat' items such as chocolate with products of a higher nutritional value such as multivitamin juice and fresh fruit, to its 600 stores in January.
Lidl said the turnover of the tills was 100% higher than standard tills and a second healthy till per store will be trialled in store until the end of August or beginning of September.
At that point one of the tills will be taken over to display festive products, with one till remaining as the healthy till up to Christmas.
The retailer said it would then review the trial again after Christmas.
A survey of shoppers found 70% of 1,294 Lidl customers found 70% preferred to use the healthy tills.
Lidl has also been running a competition, which received almost 5,000 entries, on its Facebook page to name characters which will be displayed on its fun-size fruit bags of bananas, apples and pears. The competition and tills are part of the retailer's pledge to the Government's Fruit and Vegetable Responsibility Deal.
A Lidl spokeswoman said: "We hope that the above initiatives will demonstrate our commitment to promoting healthy products and fresh fruit and vegetables to our customers and supporting them in their wish to live a healthier lifestyle."