The Prime Minister has been accused of trying to "water down" laws that would allow regulators to fine food retailers who squeeze suppliers.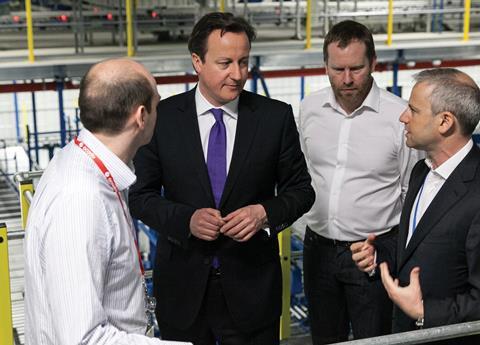 Business secretary Vince Cable wrote to Cameron today urging him not to go back on his pledge to fine supermarkets up to 1% of turnover for breaching the groceries code.
Legislation was due to be tabled this week that would have granted Groceries Code Adjudicator Christine Tacon the necessary powers to financially penalise grocers, following conversations between officials and industry bosses.
But the Prime Minister has now performed an apparent U-turn and suggested watering down the fine structure at the Treasury's request, according to the Financial Times.
Cable is said to have rejected that move, reportedly writing in a letter to Cameron: "I am concerned that continuing pressure to reduce the maximum fine from up to 1% of turnover recommended by the Groceries Code Adjudicator… not only risks failing to meet your commitment, but also carries significant legal and political risks.
"Given the strength of feeling on this issue, to depart from the recommendation at this late stage would at best be seen as a watering down of sensible proposals and at worst pose a strong risk of Judicial Review."
A spokesman for Downing Street today insisted there was "no delay or watering down," adding: "We have committed to laying the orders soon, and that is exactly what we will do."
The latest twist comes days after the Prime Minister told MPs that it was time to make sure the Groceries Code Adjudicator "has the power if necessary to levy fines so it can get its will obeyed."
Growing pressure
There is growing pressure on the coalition government to hand greater powers to the regulator amid concerns that suppliers are being unfairly squeezed by supermarket chains.
That pressure was heightened following a BBC Panorama documentary on Tesco, which aired last week.
It came as MPs on the rural affairs committee called for greater protection for dairy farmers after milk became a particular issue.
Supermarkets caught up in price wars have sought to draw in customers by dropping the prices of staple products, prompting some retailers to drop the price of milk below the price for bottled water.
Ms Tacon applied for powers to fine retailers up to 1% of revenue back in December 2013.
That request is still yet to be granted and any fines are likely to face strong opposition from the UK's biggest grocers and the British Retail Consortium, which previously dubbed the prospect of fines as "heavy handed."