Sainsbury's sales up 1.2%
Tesco and Asda both down 3.4%, Morrisons down 2%
Sales increases at Aldi, Lidl, Co-op and Waitrose
Supermarkets poised for £6.4bn spending spree across next two weeks
Sainsbury's was again the only one of the big four to report rising sales and market share in the latest Kantar grocery figures.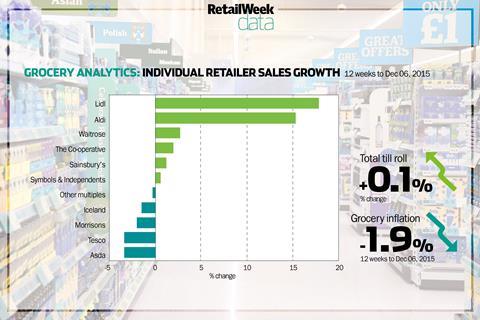 In the 12 weeks ended December 6, Sainsbury's sales were up 1.2% while its market share advanced from 16.5% to 16.7%. It is the third month in a row that Sainsbury's has grown ahead of the market.
Kantar said Sainsbury's was "successfully tapping into demand for premium goods" and hailed its "popular" 'Mog's Christmas Calamity' advert,
Tesco and Asda both suffered steep sales declines of 3.4% in the period as shoppers flocked to the discounters.
Morrisons sales fell 2% and it is now starting to "feel the impact" of selling 130 of its M Local convenience stores, Kantar said.
The discounters continued their strong run. Aldi's sales were up 15.4% and Lidl's advanced 17.9%. Their combined share remained static at 10% (Aldi; 5.6% and Lidl; 4.4%).
Kantar predicts Aldi and Lidl will pull in 10 million shoppers each over the festive period.
Aldi joint managing director of buying Jonathan Neale said: "This year has been our most successful ever as we've continued to see a fundamental shift in how people shop.
"Consumers now know that they don't need to pay premium prices for premium products, and millions are taking advantage of that this Christmas."
The Co-operative's sales increased 2% while Waitrose's revenues were up 2.7%. Iceland sales dipped 1.5%.
Across the market sales were only up by 0.1% in the 12-week period; the lowest growth since June and the ninth consecutive month where sales have increased by less than 1% as grocers continue to slash prices in the competitive market.
Nielsen data shows that in the four weeks to December 5 sales values dropped 1% while volumes fell 0.8%. It is the fourth month both metrics have dropped.
Shoppers are expected to spend £6.4bn in supermarkets in the next two weeks as they stock up on festive goodies, Nielsen predicts. Six in 10 shoppers will do their main grocery shop in the week before Christmas. The extra weekday of trading this year compared with last is expected to help trade.