The Co-operative Food is testing attaching tablet devices to trolley handles to encourage in-store customer feedback during the shopping trip.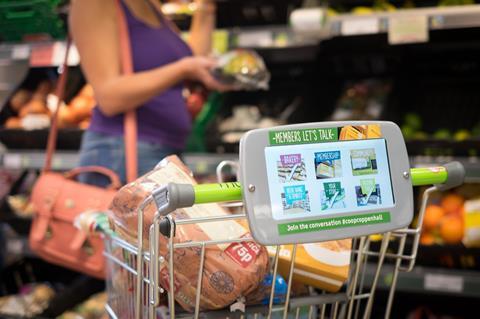 Customers will be asked questions about the store layout, the ranges carried and products stocked as they move through the store.
The trolleys are being trialled in 33 stores and will also ask for feedback on "societal issues" including sustainable food, youth unemployment and localism.
Andrew Mann, customer director at The Co-operative Food, said: "If we are to fulfil our ambition to be the UK's best local food retailer it is really important that we know what our members think about our stores and act upon their feedback.
"The high-tech trollies not only make it easy for customers to tell us about their shopping experience but because the information is collated digitally we can access what they say almost instantly."
The Co-operative will use feedback to tailor the in-store experience for the local community.
Customers who do not have access to the hi-tech trolleys will be able to provide feedback through an online version or can tweet their thoughts using a store-specific hashtag.
The pilot scheme is due to last a month before a decision is made about whether to roll it out further.
The Co-operative already has a food store in every UK postal area and has committed to opening more than 150 community stores per annum over the next four years.