The Co-op is expanding the roll-out of its autonomous grocery delivery service to Wakefield in West Yorkshire.
In partnership with Starship Technologies and Wakefield Council, the service will initially be available to 13,000 residents across more than 6,500 households.
The launch in Wakefield follows roll-outs in other areas of Leeds and Greater Manchester, as well as Milton Keynes, Northampton, Bedford, Cambourne and Cambridge.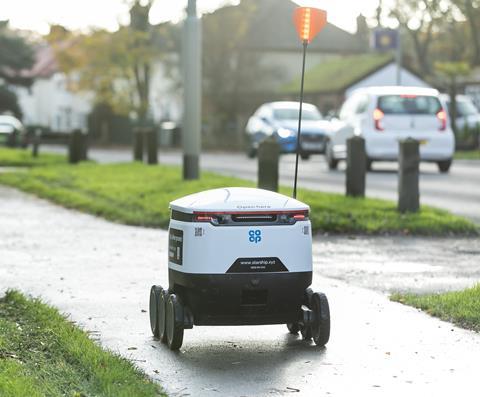 Orders are made through the Starship food delivery app and groceries will be picked fresh from the local Co-op store to be delivered in minutes.
Since Starship Technologies' commercial service launch five years ago, it has completed 4 million deliveries around the world.
Those placing an order will be able to enjoy a new feature from Starship, with three robot characters available to choose from to customise the experience.
Wakefield customers can choose to receive orders from Sir Lance-a-bot, Gizmo or Sunshine, with each robot greeting customers in its own way. Customers can also choose a song for the robot to play when it arrives.
Co-op ecommerce director Chris Conway said: "Co-op stores are well placed in the heart of local communities to provide quick, easy and convenient home deliveries – whether a full shop or last-minute top-ups.
"We are committed to exploring new and innovative ways to increase access to our products and services, and delighted to be able to roll out autonomous robot deliveries to provide additional online flexibility, choice and convenience in Wakefield."
Starship Technologies UK operations manager Andrew Curtis added: "We are delighted to officially launch our service in Wakefield today and provide local residents with the opportunity to have their groceries delivered by our fleet of battery-powered robots.
"The robots have been widely welcomed everywhere they operate for the benefits they provide in terms of ease and convenience for people, while also having a positive environmental impact. We all want cleaner air to breathe and our robots make short car journeys to the supermarket a thing of the past."