The Co-operative group has posted total half-year sales up 2.2% to £4.7bn
Like-for-likes at its core convenience business grew 4.3% in the 26 weeks to July 2
Underlying profit before tax dropped 51% to £31m, compared with £63m last year
Like-for-like sales at Co-op's convenience arm jumped 4.3% in its half-year, but profits sank 51% following investment and pay increases.
The Co-operative Group said its 51% fall in underlying profit before tax to £31 was "planned", following investment in stores, colleague pay increases and price cuts.
The group said it has reached the half way point in its rebuild phase. It changed its branding during the period, re-aligned its food offer and, as of today, has relaunched its membership scheme.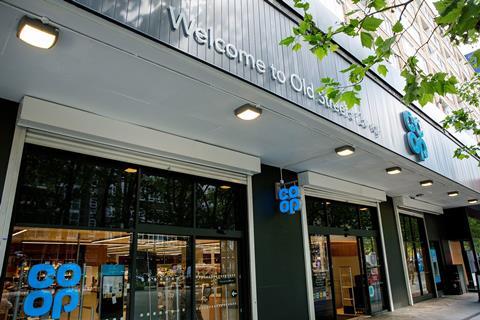 Co-op's group sales grew 2.2% to £4.7bn in the 26 weeks to July 2. Sales at its convenience business grew 4.3% on a like-for basis, and food sales jumped 3.1%.
The grocer said sales growth was driven by its continued investment, with customers starting to return to the Co-op. During the period, it said customer transactions grew 3.3%.
Being Co-op
Co-op chief executive Richard Pennycook said: "These are exciting times for the Co-op. These results, along with today's relaunch of our compelling new membership offer, show the real value of 'being Co-op' and our difference as a business.
"We are able to invest for the long-term, strengthening the appeal of our products and services, because our business model allows us to pursue a unique approach, championing a better way of doing business for customers and communities.
"This long-term approach is evidenced by the continued reshaping of our food store portfolio to support our own-brand, convenience-led strategy. This means we can, as necessary, forgo sales growth in order to ensure we have the right stores in the right places for our customers."
"We remain firmly on track with our plans and are encouraged that the work we are doing is attracting more and more people back to the Co-op."

Co-op chief executive Richard Pennycook
The grocer, which also has a funeral and a financial services business, opened 30 new food stores during the period, as part of its plan to open 100 stores and refit an additional 80 in 2016.
The group also aquired 15 Budgens stores and 8 stores from MyLocal, but sold 298 of its smaller food stores to McColls in a deal worth £117m.
As of today, the Co-op said its five million members would start to receive new Co-op membership cards. The revamped scheme aims to reward members and their communities for trading with the Co-op.
Pennycook said: "We are only half way through the rebuild and much remains to be done, whether it is investing in our digital capability or campaigning on key issues. We remain firmly on track with our plans and are encouraged that the work we are doing is attracting more and more people back to the Co-op."