Co-op boss Richard Pennycook said loyal customers prevented food sales from sliding during its recent crisis, but added that trust must be rebuilt.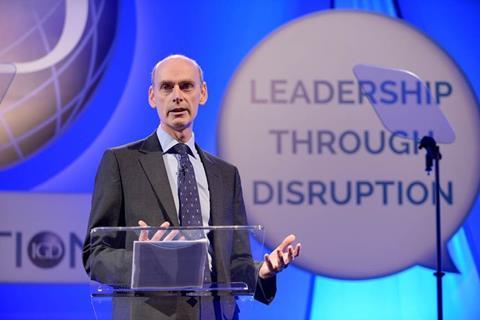 Speaking at the IGD Convention in London this morning, Pennycook said: "Even given how bad the headlines were, cross-contamination was almost non-existent in our biggest business – food.
"Our customers had an enormous amount of good will. When the chips were down, our 150 years stood for something.
"The challenge now is to rebuild that trust with customers." He added The Co-op must "live up to our promise" of being a retailer with ethics at its heart.
He praised Co-op food boss Steve Murrells. "Whilst the fire was raging, the store team was focused," he said. Murrells is leading the True North strategy which focuses on store revamps.
In a frank speech about leading through disruption, Pennycook said his first few months were spent "trying to figure out how we avert disaster".
"They were long days, weekends were wiped out and there were plenty of all-nighters," he said.
He said his worst moment was the Paul Flowers scandal. Flowers, a Methodist minister, was forced to resign as the chairman of the Co-op Bank after he was filmed allegedly buying drugs and hiring male prostitutes.
"We had the banking crisis, and thought that was bad enough, now we could add sex, drugs and religion to the mix," said Pennycook. He added the Flowers scandal "unleashed a completely new crisis".
He said that the internal name for the initiative to fix the bank was Project Charlie, and joked that with the benefit of hindsight, it perhaps was not the best name. He revealed £125m was spent in fees managing the 18-month crisis.
Pennycook added: "In 2013 the group nearly failed. Business disruption doesn't come more severe than what we've been through in the last 18 months.
"We are now stable again. We have embarked on a journey of rebuilding that we expect to take three years."