China Resources Enterprise (CRE) has posted its first full-year loss for more than a decade after its joint venture with Tesco hit finances.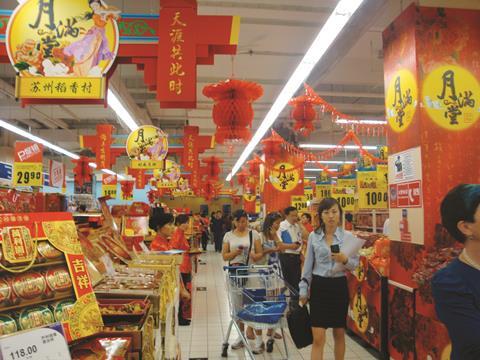 CRE, which is second only to Auchan/RT-Mart in the Chinese grocery market, blamed the financial impact of the Tesco deal and the challenging trading environment in China as the main reasons behind its meteoric slump.
The grocer reported a loss of HKD873m (£75.5m) compared to a profit of HKD100bn (£8.65bn) the previous year, but CRE said retail sales jumped 15.1% to HKD109.5bn (£9.47bn).
Like-for-like sales dropped 2.6% as bosses claimed CRE was "overcoming short-term headwinds for sustainable growth."
CRE said the general slowdown in the Chinese economy had hit sales of high-ticket products and gift cards. It also said increased levels of competition from online retailers had affected sales.
The grocer spent HKD800m (£69m) on closing underperforming stores, which also impacted profits, CRE chiefs said.
CRE will now focus on "operational efficiencies and synergies", which it hopes will come as a result of the Tesco partnership formed in 2013.
Although the tie-up hit profits in 2014, CRE said it was confident that the scale of the partnership, and the retail knowledge it gains from the link-up, will help transform its business model in the future.