Campaign groups calling on Tesco to pay its workers a living wage have taken direct action by altering some of the retailer's price tags.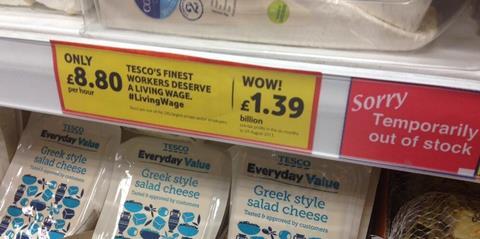 Citizens UK and responsible investment charity ShareAction have changed the labels on some shelves to show £8.80 – the amount the living wage is currently set at per hour in London – followed by 'Tesco's finest workers deserve a living wage #LivingWage'.
The groups have also launched an online petition urging the UK's biggest retailer to pay workers a living wage - the amount an individual needs to earn to cover the basic costs of living – which is set at £7.65 for the rest of the UK. The national minimum wage is £6.31 per hour.
The campaign against Tesco comes ahead of the retailer's annual general meeting on Friday.
Today the Living Wage Commission, an independent inquiry into the future of the living wage, launched a report highlighting that a total of 5.2 million employees are paid below a living wage.
The report found the occupation with the highest proportion of staff earning below the living wage was sales and retail assistants.
Seven out of 10, or 810,000, sales and retail assistants were paid below the living wage, with a median wage of £6.69.
A Tesco spokesman said: "We pay one of the highest hourly rates in the industry, on average between 5% and 8% more than our major competitors. The living wage only recognises basic pay, but our reward package is much broader than that. When our colleague discount, Shares in Success scheme and employer pension contributions are taken into account, all our staff receive above the living wage, both in London and in the rest of the UK."