Boots is aiming to build food market share with the launch later this year of a range built around evening meals, and may even sell wine.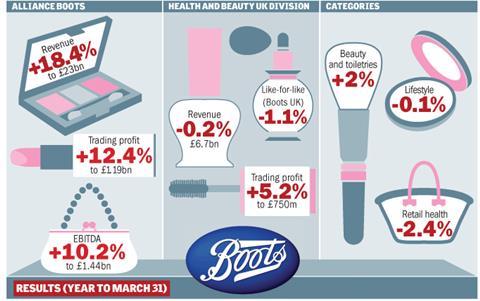 Although a departure from its existing sandwich and snacks offer, Boots chiefs believe a wider range would benefit from the same convenience dynamics that drive its lunchtime food trade.
Scheduled for launch in September, the new food lines are at trial stage at present. The range may include ready meals and salads, and Boots might even sell wine as part of the offer.
Boots chief executive of health and beauty Alex Gourlay said the focus will be on convenience and health. "We've got huge credibility, particularly in health and in our Shapers brand, so we're extending our food offer," he explained.
"For some customers in some locations it's more convenient for them to get [their evening meal] from Boots, and they trust Boots to do it in terms of price and health.
"That's the insight we're working on. We're seeing that behaviour clearly in trials. So we're going to where the customers are going."
Gourlay said Boots has already identified the stores that will offer the evening meal range, and some shops will extend trading space dedicated to food.
Shoppers are increasingly buying food at convenience stores, including those run by the big grocers on high streets, where Boots has a strong presence. "It's about an evolution of the model rather than a revolution," Gourlay said.
There is also increasing demand for convenience food. The ready meals market for instance was worth £1.3bn in the year to April 15 – up 9.8% on the previous year, according to Kantar data.
Boots has tried previously to bolster its food offer. It experimented by selling some Waitrose products but that tie-up was ended after it failed to meet both retailers' expectations.
Boots' core UK health and beauty business, including opticians, delivered trading profit up 5.2% to £750m last year, when revenue slipped 0.2% to £6.7bn. Like-for-likes at the core chain fell 1.1%.
Parent Alliance Boots' executive chairman Stefano Pessina said the strategy of the group, which also wholesales, remains to build the business into a global pharmacy-led health and beauty company.
Pessina said the consumer remains under pressure, which will create challenges and opportunities. He said: "We are confident about our prospects and ability to pursue profitable growth, organically and through international expansion."