B&M has reported a slowdown in first-quarter UK like-for-like sales but the value retailer continues to open stores at a "record" rate.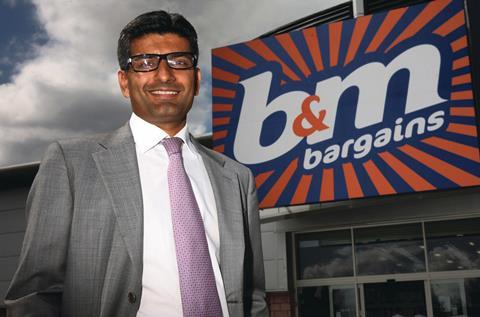 UK like-for-likes rise 1.1% compared to 6% increase in prior year
'Disappointing' May weather blamed
25 new stores opened in last three months
Confident of 'at least' meeting full-year profit expectations
UK sales in the 13 weeks to the end of June rose 1.1%, compared to a 6% increase on a like-for-like basis in the same period last year.
"The positive like-for-like performance this quarter is testament to the robust and balanced nature of the business model, as it was achieved despite disappointing weather in May which held back sales of outdoor seasonal products," the retailer, which entered the FTSE250 last month, said.
Group sales on a constant currency basis jumped 25% to £456.6m, compared to a 32% lift the previous year.
Chief executive Simon Arora said: "I am pleased to report that the group has delivered another strong spring trading period."
He noted that 25 new stores had been opened in the last three months, which he described as a "record" rate of openings.
B&M plans to open 80 net new stores this financial year, adding to its current total of 450.
In May, B&M reported full-year net profits of £39.9m off the back of a 29.5% increase in sales to £1.6bn.
He added: "As consumer spending improves, it is apparent that shoppers remain keen to spend with value retailers and we continue to win market share."
Internationally, B&M said its two new format pilot stores in Germany are trading in line with budget and it expects to open more of the new format stores this financial year