Asda is scrapping investment in click-and-collect sites and slowing down its London expansion as it bids to rejuvenate existing stores.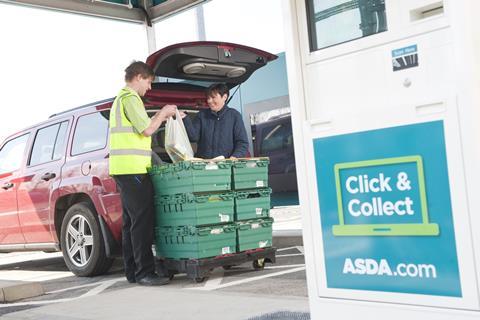 Asda slows down plans for 1,000 click and collect sites
The grocer is also pausing its store expansion in London
Boss Clarke instead prioritises reinvestment in 95 larger stores
The grocer is slowing down plans to have 1,000 click-and-collect locations across the UK by 2018 and will not be expanding the service it runs at London Underground stations. Big four rivals Tesco and Sainsbury's have already quit the Tube scheme.
The U-turn comes after Asda's retail director Mark Ibbotson said two years ago: "We believe customers will value the convenience of collecting shopping at their home tube station rather than carrying the products bought in premium convenience stores on their commute home." Asda also has click-and-collect sites at park-and-ride locations and business parks.
Asda will also slow down its London expansion, shelve plans to develop more standalone petrol stations and close non-core arms including its business-to-business sales operation – which includes bulk orders to nurseries – within "the next few months."
As part of the move 29 jobs will be axed at its head office in Leeds.
However Asda said it plans to open another 24-hour pod collection site at an undisclosed location after reporting postive trading at the first site in Lancashire, which opened in May.
Asda has pledged to refurbish 95 of its larger stores, which represents around a third of its hypermarket estate, as it bids to reflect changing shopper habits.
The Walmart-owned grocer will also conduct range reviews and "maintain and extend" its everyday low price model in a further bid to win back shoppers from German discounters Aldi and Lidl, which continue to win customers from the big four and increase their market share.
It will press ahead with existing plans to open two dark stores in Dartford and Heston next year.
Asda said the 18-month initiative, titled Project Renewal, is aimed at "prioritising investment to better address the fast-changing needs of its customers."
The grocer added that the programme will allow it to concentrate on "efficiency and service in its core business", prioritising spending "on areas central to customer needs."
Asda only restructured its head office operations last summer as it realigned the business to reflect its multichannel priorities.
The boom in online shopping has caused headaches for the big four. Food price deflation and changing shopper habits have also combined to make it difficult for the supermarket giants to form effective strategies in their fightback against the discounters.
Simplifying strategy
Asda boss Andy Clarke said: "Asda is a strong and profitable business which has built its success on delivering everyday low prices and good value to customers through efficient, friendly and well-managed stores. This is a winning strategy and we are determined to stick with it.
"Over the last two years, we have shown that we are ready to make necessary and early changes to match that ambition to the demands of our customers, especially at a time when the market is clearly undergoing permanent and rapid structural change.
"We need to simplify what we do by prioritising the first line of our strategy – improving our core business – and pausing activity in other areas so that we are not spread too thinly.
"We started that journey today with our colleagues and over the coming weeks we will work on the detail in partnership with our suppliers."
The move comes two months after Clarke said Asda had reached its "nadir" following the worst quarterly sales slump in its 50-year history in the 11 weeks to June 30.