Asda has removed permanent collection points for food banks from its stores following a review of its community programme.
The supermarket giant has also called time on its green token initiative, under which it donated to local charities according to how many plastic coins were placed into collection boxes by shoppers.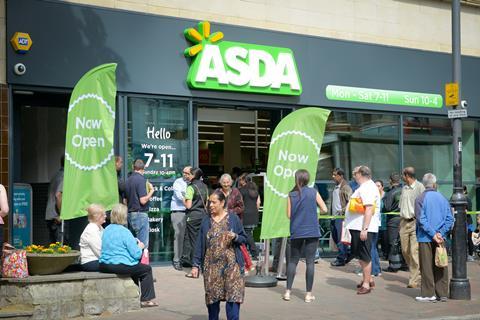 The grocer said demand for this service had "dropped", but added the scheme was being "changed and updated". A permanent replacement is set to be revealed shortly.
Asda said the national change in policy would result in an extra £2m being invested "into local good causes" via the Asda Foundation. Charities can apply for funding from the foundation by contacting their "local community champion" – a role Asda has in each of its stores.
The Walmart-owned retailer, which unveils its fourth-quarter results at lunchtime, said the changes were designed to make Asda's practices "fair and consistent for all the charities we support".
An Asda spokeswoman added that charities were still welcome in its stores, as long as "volunteers are on hand to talk to customers and explain where their donations are going."
The spokeswoman said this practice "maximises donations charities are getting" from customers and said shoppers "didn't necessarily know who their donations were for and where they were going" when they gave to food banks.
Fallout
However the removal of the banks, which offered shoppers the chance to donate items they have purchased in store or brought in from home, has caused alarm among some charities.
Chief executive of Gatehouse Food Bank, Amanda Bloomfield, told the Guardian that around 15% of the food the organisation gives out comes from Asda's food bank at its Bury St Edmunds store, in Suffolk.
Bloomfield said: "I was called to a meeting at the local Asda last Tuesday. I met the community representative and some management staff and was basically told that they had been to an Asda conference, and with immediate effect unmanned collections were no longer allowed.
"The food that had been donated up to that point was to be removed immediately, and there were to be no more collections. There was no reason given."
She added: "The management at Asda said there would now be a possibility of doing a food collection a couple of times a year in their main reception area.
"That would mean we would have to find volunteers to man the operation, whereas at the moment, volunteers only need to collect the food once a week."
Community support
The Asda spokeswoman said: "Charities might be concerned initially, but once they have spoken to their community champions, they will see the benefits of these changes in the long term."
"There are lots of good causes in every single community that we are based and we want to make sure we are helping as many of them as possible"

Asda
She also denied that the move was aimed at cost-cutting. The grocer is making sweeping changes in the light of stiff competition from Aldi and Lidl, whose growth has hit Asda hard.
Boss Andy Clarke said Asda reached its "nadir" in its second quarter after like-for-likes tumbled 4.7% – a figure that improved only slightly to a 4.5% fall during the following period.
It has launched the 18-month Project Renewal, aimed at aimed at "prioritising investment to better address the fast-changing needs of its customers".
Up to 300 jobs will be axed at its head office in Leeds, while 5,000 in-store roles have been placed into consultation as it seeks to cut costs.
But the spokeswoman denied the two were linked, adding: "This is not us taking a step back at all. If anything, we are trying to do more for charities.
"There are lots of good causes in every single community that we are based and we want to make sure we are helping as many of them as possible."