Asda has revamped the homepage of its website and launched a tablet-optimised site to capitalise on digital shoppers on the move.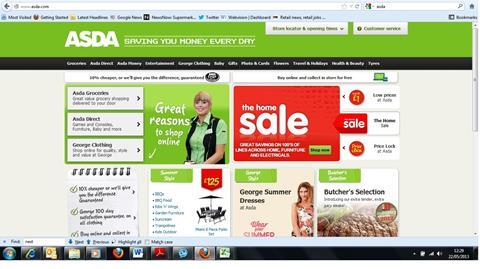 The UK's second largest grocer canvassed customers before introducing the simpler design which clearly signposts the retailer's three main grocery, George clothing and non-food sites.
The retailer has also launched a site for tablet shoppers with simplified navigation, collapsible menus and improved image displays.
An Asda spokeswoman said: "We've updated the homepage to meet the ever-changing expectations of our customers and continue to make shopping convenient for them. We worked with them to improve the design and layout so it helps them get to where they want to go quickly and simply, while creating an engaging experience online."
She added: "Our new look isn't the end of the story, we're committed to continuing improving the digital experience for our customers, whether they use mobile, tablet, laptop or desktop to shop with us."
The move comes as Asda invests £700m into a number of initiatives including improving its digital offer. Retail Week revealed last week the retailer is in talks with universities to offer collection of online orders on campus.