Asda has overhauled its online business as it acquires a fully automated click-and-collect pod technology to make it even more convenient for customers to shop.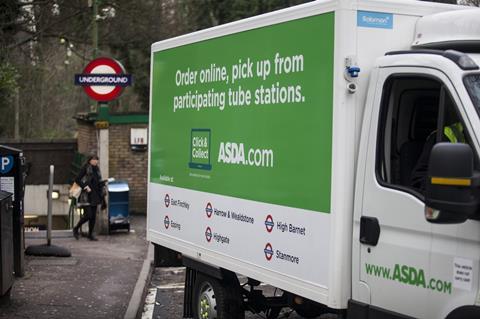 Asda has bought the click-and-collect intelligent pod which enables customers' online orders to be delivered to stand-alone temperature-controlled units where customers can collect their orders when they want.
The pods, which have been developed in Holland, will be trialled early next year and Asda is currently searching for appropriate sites in London and the south east.
Asda chief executive and president Andy Clarke said: "Our existing grocery home shopping offer is already growing at more than 20% year on year and this exciting new click-and-collect technology will allow us to bring Asda value to even more customers – particularly in London and the South East."
The pods are expected to process over 10 times more customer orders than existing click-and-collect sites.
Dutch entrepreneurs Peter Pompen and Henk Niemansverdriet will work closely with the Asda click-and-collect team to deliver the service.
Niemansverdriet said: "It's a unique system that is flexible, sustainable and reliable so that all goods remain super fresh."
Click-and-collect pioneer
It comes months after Asda launched the first temperature-controlled self-service click-and-collect lockers for groceries in its Pudsey store in March.
In addition to the intelligent pods, Asda plans to increase its click-and-collect points from 400 to 600, grow its drive-thru click-and-collect sites to 200 and increase its same-day click-and-collect services to 100 new sites to bring the total to 350.
It also plans to develop three new Asda Home Shopping Centres.
Asda has been leading the way in click-and-collect. Last year it became the first retailer to trial click-and-collect services in six London underground stations and plans to double this by the end of the month. And it was the first supermarket to roll out Drive Thru click-and-collect points at its stores.
Some 10% of all Asda online orders are now collected in stores and over the next five years, this figure is set to treble.
Asda will streamline its online offer
Asda has also revealed it is streamlining its online offer, to two core sites, Asda.com and George.com in February next year. Currently, customers can access Asda through three sites, Asda.com for groceries, George.com for fashion and home and Asda Direct for other general merchandise such as books and garden furniture.
From February 2015, 80% of Asda Direct ranges will be merged into Asda's Grocery Home Shopping and George.com online stores. Asda believes it will create "an experience for customers that mirrors their weekly shop".
It will mean that products such as large electricals and DIY products won't be available online but will be stocked in stores. George.com will become the grocer's online lifestyle store with access to toys and garden furniture alongside its George fashion and home offer, which it plans to expand.
Clarke added: "We're creating an online experience that logically fits with how our customers want to shop and focuses on the areas that our customers love. Ultimately, we want to give more people access to the price, quality and style that we are famous for."
Part of Asda's five-year strategy is to grow online sales revenue to £3bn by 2018.