Asda was again the only one of the big four grocers to grow its share in recent weeks, while Lidl achieved its highest ever growth.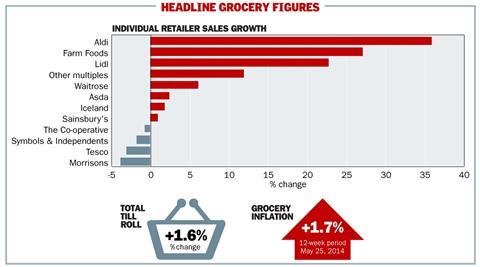 In the 12 weeks to May 25, Asda's share increased from 17% to 17.1%, while Aldi, Lidl and Waitrose continued to grow their share in the tough market, according to data from Kantar.
Tesco, Sainsbury's and Morrisons all lost market share in the period. Tesco sales dropped 3.1% and Morrisons' fell 3.9%.
The growth in the overall grocery market slowed down to just 1.7%, the lowest level in 11 years, with the exception of the March 2014 12-week ending period, which was affected by the late-falling of Easter this year.
Lidl achieved its highest ever market share growth, up from 3% to 3.6% year on year. Aldi's share remained flat compared to the previous period, at 4.7%. However, this represents a 35.9% increase on last year.
Waitrose's share was 5.1%, up from 4.9% a year ago but flat on the previous period.
Kantar Worldpanel director Edward Garner said: "Despite the wider market slowing, Lidl achieved a record share this period. Similarly, Aldi has gained 35.9% and retains its record 4.7% share reached last period.
"At Waitrose, managing director Mark Price's tactic of being "everything that the discounters aren't" seems to have paid off for the retailer. By differentiating its offer, Waitrose has maintained its all-time record share of 5.1% secured last period. Meanwhile, Asda surpassed its rivals with a market-beating growth of 2.4%, lifting market share to 17.1%, compared with 17% a year ago. Asda is the only large grocer to grow share year-on-year".
Supermarket price competition prompted another drop in the level of grocery price inflation to 1.2%.
Total till roll – UK consumer spend
12 weeks to 26 May 2013
12 weeks to 25 May 2014
% change
£000s
% **
£000s
% **
Total till roll
32,299,670
32,803,150
1.6%
Total grocers
24,976,120
100.0%
25,410,740
100.0%
1.7%
Total multiples
24,441,180
97.9%
24,885,250
97.9%
1.8%
Tesco
7,615,715
30.5%
7,376,189
29.0%
-3.1%
Asda
4,238,584
17.0%
4,340,978
17.1%
2.4%
Sainsbury's
4,163,659
16.7%
4,199,098
16.5%
0.9%
Morrisons
2,891,272
11.6%
2,779,532
10.9%
-3.9%
The Co-operative
1,545,591
6.2%
1,535,289
6.0%
-0.7%
Waitrose
1,217,948
4.9%
1,292,380
5.1%
6.1%
Aldi
880,128
3.5%
1,195,842
4.7%
35.9%
Lidl
748,117
3.0%
918,064
3.6%
22.7%
Iceland
507,213
2.0%
516,296
2.0%
1.8%
Farm Foods
153,747
0.6%
195,453
0.8%
27.1%
Other multiples
479,209
1.9%
536,132
2.1%
11.9%
Symbols & Independents
534,938
2.1%
525,487
2.1%
-1.8%