Grocer Asda expects 75% of its customers to shop across bricks and clicks this Christmas, signalling a dramatic shift towards multichannel among its shoppers.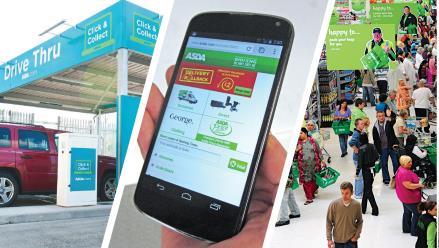 The figure compares with 57% over Christmas 2012 and 29% over the festive period in 2011 at Asda.
Asda chief marketing officer Stephen Smith told Retail Week that a strong multichannel offer will be critical to seasonal success this golden quarter.
He said: "Make or break for everybody this Christmas will be around multichannel - who offers the best access to products and as many options as possible to shop any way customers want to.
"We need to be able to offer easy solutions that are convenient. People won't wait around at home for things to be delivered, far and away the fastest growth is in multichannel and click-and-collect." Asda has placed multichannel at the heart of its offer.
In April it revealed it is investing £700m in stores and online initiatives, including same-day delivery of food orders which is planned for later this year.
The grocer offers a food click-and-collect service in 100 stores at present, and that is expected to increase to 250 by the end of the year.
Non-food click-and-collect is available in all 568 stores via counters, and Asda also last month rolled out order kiosks and collection lockers at 20 stores.
The grocer is also considering installing lockers in locations including train stations and universities.
Asda also operates a drive-thru at its York store and wants one in every shop by the end of 2015.
"We have astonishing numbers for the growth of our click-and-collect services," said Smith. "The percentage of sales [it accounts for] is growing exponentially."
Click-and-collect is becoming an increasingly vital tool for retailers as it offers a convenient delivery channel for online customers while driving footfall and incremental sales in store. Verdict forecasts £2.5bn will be spent via the channel during 2013.
Smith added that Asda's transactional mobile app has now been downloaded 2 million times.
Along with multichannel, price and product range will be the other big priorities for Asda this Christmas.
Smith said that, as well as quality festive groceries, the retailer will also be focusing on home, toys and electricals.
"I'm hopeful we will be known for our range of products this year. I think we have a lot of authority in areas people aren't thinking we have authority in," he said.