Asda turned 50 this year and is celebrating the milestone throughout July. Here are 15 fun facts you might not have known about the supermarket giant.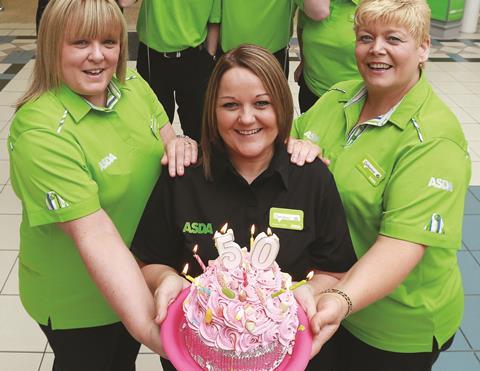 1. In 1966 Judith Smith, an employee in Asda's Castleford store, became the first checkout operator to take £1,000 in a week.
2. Asda's Monks Cross store in York held the first ever supermarket wedding.
3. Former England captain David Beckham once had his credit card declined at one of Asda's petrol stations in Manchester.
4. A pair of Asda security colleagues who dressed up as Batman and Robin for a charity fundraiser ended up chasing a shoplifter out of store and down the street. The CCTV footage from the incident was featured in a host of national newspapers.
5. Asda's Merthyr Tydfil store sells the most white socks in the UK – one pair every six minutes.
6. Coronation Street villain Richard Hillman drove his wife Gail into a canal right outside Asda's Ashton Under-Lyne store, sparking an influx of visitors.
7. Asda was the first supermarket to introduce in-store chaplains to its aisles to chat to customers. The scheme proved so popular that more than 150 stores had one within 12 months.
8. Scenes from The Full Monty were filmed at Asda's store in Sheffield.
9. Sir Alan Sugar once called the Asda press office – but nobody believed it was him.
10. Asda has two of the oldest supermarket workers in the UK in its Hyson Green and Wigan stores. Both colleagues are 90 years old.
11. There was a controlled explosion of an ice cream carton in Asda's Bexleyheath store after a customer found a ticking black box inside it. It turned out the box was a thermometer the shopper had kept in his freezer for a week.
12. Asda sold a copy of Camilla Parker-Bowles' engagement ring after Prince Charles popped the question.
13. Former MP Michael Portillo once worked in George lingerie as part of a BBC documentary series.
14. Asda staff member Marbella Lynne travelled to work from Spain every weekend because she missed her work colleagues.
15. The famous 'pocket tap' used in a host of TV adverts has taken its place in sign language as the official sign for Asda.