Asda has launched its first automated parcel tower designed to speed up online collections and returns for customers.
The 16ft tall towers, which operate in a similar manner to Amazon lockers, have been trialled at more than 100 locations by Asda owner Walmart in the US.
But the installation at the grocer's Trafford Park store is the first to be opened in the UK.
Shoppers can order thousands of non-food items from Asda's George fashion and homewares website to be collected from the tower.
They then scan a barcode sent to their smartphone at the parcel tower to receive their order.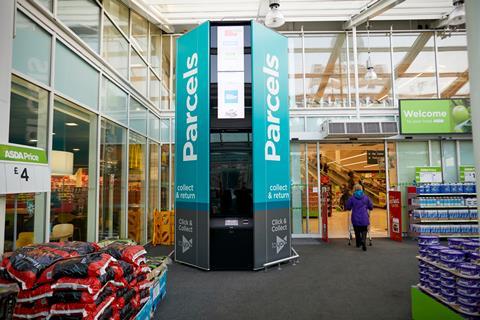 The service can also be used when ordering from a host of third-party retailers online, including Asos, Missguided and Decathlon.
Installation of the new parcel tower, which holds up to 500 orders and can dispense them to customers within 60 seconds, is the latest move in Asda's multichannel drive.
In November 2015, the supermarket giant launched its ToYou service, which uses minute-by-minute parcel tracking and allows shoppers to collect parcels from third-party etailers at more than 600 Asda stores across the UK.
Asda said the parcel towers were a more "unique concept" that offered "a quicker and more convenient way" to collect online orders.
Neil Drake, Asda's ToYou – retail process, systems and innovation manager, said: "It's great that we've been able to work with our parent company Walmart in the US to bring this new exciting technology to the UK. So far it's been a huge success for them.
"We know speed and convenience are important factors to customers and partners of our ToYou service, and we're always looking for new ways to bring that to them.
"The parcel towers are the latest example of how we're using new technology to save our customers time and money."