Asda hasn't become 'boring' and is approaching 2010 in an aggressive mood with a raft of new initiatives, chief executive Andy Bond tells Jennifer Creevy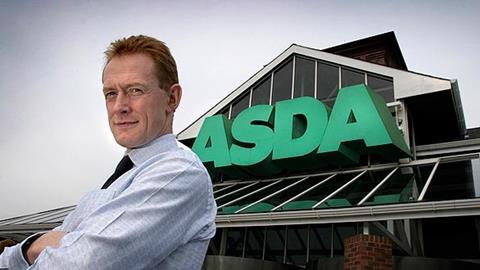 Asda chief executive Andy Bond last week outlined "a new chapter for future growth" for the Walmart-owned grocer. And that strategy included a return to its Everyday Low Prices (EDLP) strategy, a push to open smaller stores, bolstering non-food and ramping up online.
Last week Retail Week Online revealed the contents of an explosive note from JP Morgan that claimed Bond had admitted it had become '"boring". But despite suggestions that Asda underperformed over Christmas and in January, and that it had suffered by not having a loyalty scheme, Bond insisted the grocer's new strategy is not a "fightback".
Bond is comfortable with Asda's Christmas performance. In its fourth quarter - to January 31 - like-for-like sales rose 4.6%. For the full year, it recorded like-for-likes up 6%.
However, market share figures showed that Asda's share has slipped. According to Kantar Worldpanel, Asda's market share for the 12 weeks to January 24 fell 0.1% year-on-year to 16.9%.
Bond admitted that Asda had been hit by the intense promotional tactics of its rivals, which "clouded our EDLP strategy", but also said that Asda suffered from the snow more than any of the other grocers.
Snow impact
"We outperformed Tesco and Sainsbury's in our fourth quarter but the real issue for us was the snow," says Bond. He pointed out that Asda has fewer stores than its competitors, most of which are out of town, and it therefore suffered as shoppers avoided driving.
Most analysts warn against jumping to any conclusions from the market share figures. "One month's data does not determine a trend," says Oriel analyst Jonathan Pritchard. "The snow was a material factor for Asda over the other grocers, but whether there are any long-term problems for the business will only become clear after we see the share data for the next couple of months."
Like Pritchard, most analysts are willing to give Asda the benefit of the doubt over its recent performance but, nevertheless, the grocer has still laid out ambitious plans for growth this year.
"Asda's plans are combative but the grocery sector is always very competitive," says Pritchard. "They will intensify the battleground but should have a fair shot at it, and obviously have the backing of Walmart to help them."
A key part of Asda's plan is to refocus around its EDLP proposition. Bond says his three rivals are guilty of employing "weapons of mass distraction" when it comes to pricing, while Asda charges a consistent low price.
"In times of falling inflation suppliers invest more in promotions rather than investing in reducing the base price of their products," says Bond. "This type of promotional activity benefits high-low retailers that are less interested in lowering real prices."
Bond says Asda will cut down on promotions and instead spend that money on lowering prices across the board. He says: "The level of promotions is a problem for everyone but, for a brand built on EDLP, we need to push back on this activity and our suppliers are very supportive."
Charles Stanley analyst Sam Hart says the level of promotions across the sector stands at about 30%. He adds: "Part of the reason suppliers backed promotions when the recession hit was that they saw a significant weakness in sales but, as the economy recovers, they may be less willing going forward. There won't be a massive cutback though as promotions are a key characteristic of the grocery sector."
Bond believes customers will understand the grocer's EDLP position even if rivals remain gung-ho on promotions. "We hope customers will understand what we're doing and I have a gut feeling they will," says Bond. "It will be tough but we're confident in the long term it's the right thing to do."
A question of loyalty?
Bond denies Asda was hit over Christmas by not having a loyalty card. Both Tesco and Sainsbury's upped the ante on loyalty over the festive season; the former offered double Clubcard points, an initiative that it has since extended to this summer, and the latter ran a coupon-at-till campaign. Morrisons also ran a voucher promotion in the run-up to Christmas.
Bond says: "There's no evidence those without loyalty cards have suffered as over the past 12 months Morrisons and Asda have shown the most growth of the big four and we are the two without cards."
He insists the unprecedented voucher campaign that Asda ran in January was to win back customers who had struggled to get to its stores in the snow. "I will do things in the short term that I think are right but I want to be judged over the long term," he says.
Bond remains insistent that Asda does not need a loyalty card, and already collects valuable data on customer shopping habits. He says: "We reward our customers with our EDLP - not plastic points."
However, according to analysts at JP Morgan, who attended an Asda supplier conference earlier in the month, Asda acknowledged that cards were having an impact and that the grocer "would do something about it".
Hart says loyalty is "difficult to quantify". He adds: "It does seem almost indisputable that Tesco got a significant boost from its double Clubcard promotion at Christmas and that could have affected Asda's sales but there is no way of knowing this for sure."
Bond denies saying Asda is "boring" - which JP Morgan claims he said at the suppliers conference - and pointed to the relaunch of its premium range Extra Special and the extension of its local and world food offers as recent initiatives.
JP Morgan reported that Asda was concerned its range rationalisation had gone too far. The broker said Asda pointed out that when it reduced its range from 100 types of a product to 70, 40 of those would sell quite well, but the remaining 30 were "boring" to customers despite it significantly improving the grocer's cost base. It said as a result, Asda will expand the range again, and seek to add excitement to the shopping experience through in-store events.
A push into smaller stores of no less than 10,000 sq ft, the roll-out of Asda Living and an ecommerce drive are also key for the grocer this year. According to JP Morgan's note, Asda believes that 75% of growth in the UK will come from smaller stores, online and non-food. The broker said Asda plans to open 100 smaller format stores in the next three to five years, and 150 Living stores.
Bond would not confirm the grocer's target number of openings but confirmed that Asda would "accelerate in the three areas over the next five years".
On small stores, Bond says too much is made of Asda's ill-fated Essentials format - a 10,000 sq ft discount supermarket, which the grocer tested in 2005 but pulled a year later. "We learnt a lot from Essentials and that just makes us sure we are on the right track now," he says.
Rival grocers including Sainsbury's, Morrisons and Waitrose have also pressed the button on smaller stores, making the competition for sites intense.
Collins Stewart analyst Greg Lawless says Asda's strategy seems "flat-footed" and asks: "Why didn't they [Asda] snap up more of the Co-operative Group stores that were up for grabs? They are getting into small stores after everyone else so will find it hard to penetrate the market."
Bond points out Asda did buy three Co-op stores last year and argues that "there is a lot more churn in small stores so whether that's individual shops or small pockets, there should be plenty of opportunities coming up".
He also says that Asda's supply chain is already set up for smaller stores because it operates 21 shops under 25,000 sq ft at present. He says: "We don't sell any items unique to small stores so the logistics are the same as for our larger stores. They're not convenience stores, which do operate on a different model."
Scope for growth
Non-food growth will come from the roll out of Asda Living and online. Bond would not confirm the claim in JP Morgan's note that Asda was gunning to become number one in non-food in the UK but explained there was significant scope for growth.
Bond says George at Asda has shown "incredible growth" - hitting the number one spot in volume market share last November for the first time - and Asda Living "continues to exceed our expectations". He says: "In its own right, our Living format is now a bigger non-food business than a number of high-profile brands."
He explains the Asda Direct and George.com in-store collection service will be rolled out nationwide from next month, and is aiming that at least 10% of George sales will come from online purchases.
Hart says: "It will be quite a struggle for Asda to overtake Tesco in non-food but they do have a strong position in clothing and should get a leg up from the buying power of Walmart."
Lawless agrees it would be difficult to take over from Tesco without making a sizeable acquisition. He points to Home Retail Group - owner of Argos and Homebase - as a possible fit. "Asda could switch the Homebase stores into Asda Living, then operate one of the best multichannel operations in Argos," he says. "But with so many emerging regions to invest in such as China or South America, it would be a big ask for Walmart to make such a huge acquisition in a mature market like the UK."
Bond's confidence about growth partly stems from Asda stepping up its relationship with Walmart and tapping into the parent's buying strength. The George head office in Lutterworth, Leicestershire, is already Walmart's global fashion hub - part of its establishment of global merchandising centres - and Bond says Walmart's strategic agreement with supplier Li & Fung will lead to "lower prices in a number of non-food categories".
Walmart has also bought supplier International Produce, which has been a food supplier to Asda for five years. Bond says bringing the business in-house will create "huge cost-saving opportunities for Asda" as "we begin to benefit from the increased volumes needed to supply other Walmart businesses around the world". He says Asda is poised to "unlock the full potential of our relationship with Walmart".
Shore Capital analyst Clive Black says Asda has probably made "some modest progress" already in benefiting from Walmart's supplier base, and its push on Living and online could make a "meaningful difference to its performance in this [non-food] area".
The broker expects a "combative but rational trading performance in 2010 from Asda, making it a formidable competitor to the quoted players".
He adds that the competition is not just in food and that "Asda has big ambitions in general merchandise and, along with its superstore peers, gives the apparel trade ever more to think about".
Asda has set out its stall and has plenty of growth to go for. If anything, the setback over Christmas and the new year will have made the grocer ever more determined.
Bond claims not to be in a position of having to "fight back". Whether or not that's true, he has definitely put his foot harder on the accelerator.