Sainsbury's has stopped comparing branded goods prices with Tesco and slashed prices, but will it be enough to stop customers switching to Asda and discounters?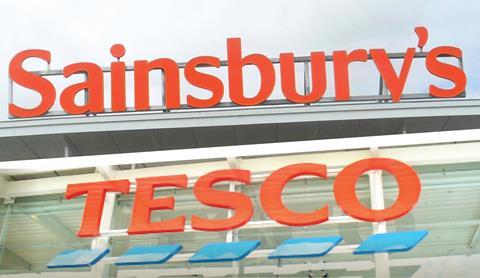 Sainsbury's decision to axe Tesco from its Brand Match scheme means price comparisons will now be made solely against Asda, and Sainsbury's is even going as far as using a green palette similar to Asda's in its advertising to drive home its price message.
The shift has been accompanied by a swathe of price cuts as Sainsbury's seeks to position itself well in a changing grocery landscape.
Planet Retail analyst David Gray believes the switch in strategy could be a precursor to some "quite bad" results next week.
"The fact they are shifting to every day low pricing (EDLP) and matching against price-leader Asda indicates they have taken a harder hit from discounters than we thought," says Gray.
Dropping Tesco from Brand Match is also beneficial because it makes the scheme cheaper and easier to administer, according to Gray.
Sainsbury's says the changes are designed to simplify the Brand Match for customers "who are surprised to hear [Sainsbury's is] the same price or cheaper than Asda more than half the time on branded items".
However, it is a gamble for Sainsbury's because ignoring the prices of the biggest grocer in the market could make it harder to convince consumers to switch to Sainsbury's.
Clear price message
Saatchi & Saatchi chief strategy officer Richard Huntington, who used to work on the Asda ad account, agrees dropping the focus on Tesco will make the communication of Sainsbury's message easier, but questions the overall proposition.
"I've lost the understanding of what Sainsbury's value proposition is"

Richard Huntington, Saatchi & Saatchi
"It is a clearer message on price but it leaves me no clearer about what Sainsbury's value promise is to its customers," says Huntington. "I've lost the understanding of what Sainsbury's value proposition is."
While Huntington acknowledges price cutting will drive footfall and price matching will reassure loyal customers "they are not being mugged", he believes the impetus still lies with the value retailers.
"It is like Aldi is UKIP and big supermrkets like Sainsbury's are the Tory party - they are letting the fiddler dictate the tune and are seeing basket sizes decrease," says Hungtington.
Bernstein analyst Bruno Monteyne believes Sainsbury's has been implementing the newly announced price strategy since as early as November last year. He had initially been puzzled why Sainsbury's sales had fallen in the last two periods of Kantar data.
Not a real price war?
Gray believes the price cuts and change to Brand Match are a marketing play rather than the start of a genuine price war.
He points out that the change did not need to be announced to the City so the price cuts must be from money already allocated.
"They are only ever going to do every day low pricing on a certain number of products that people know the price of such as milk, bread and eggs," says Gray. "Then you can make bigger margins on other products."
Gray says a full-scale price war would only start in earnest when grocers generally start slashing their margins and there has not yet been a reset of the sort that signals a full-scale price war.
"If Tesco does reset margins I don't think it will be drastic - a price war is not in anyone's interests," concludes Gray.
The key for Sainsbury's will be whether customers believe it has genuinely lowered prices rather than trying to pull wool over their eyes.
If that is achieved then Sainsbury's may be in a better position to hold its own against Asda and the value grocers.
Sainsbury's cuts thousands of prices and focuses Brand Match on Asda
1

2

Currently reading

Analysis: Will Sainsbury's new pricing strategy and Brand Match changes strengthen its position against Asda and the discounters?

3