Statutory pre-tax profit surged 28.8% to £1.67bn in the 53 weeks to February 23 – a year that included a 13th consecutive quarter of growth for its core UK business.
Even the fly in the ointment, Tesco's international business, delivered encouraging results. For the first time in the supermarket giant's history, all of its overseas markets – across Central Europe and Asia – delivered a full-year profit.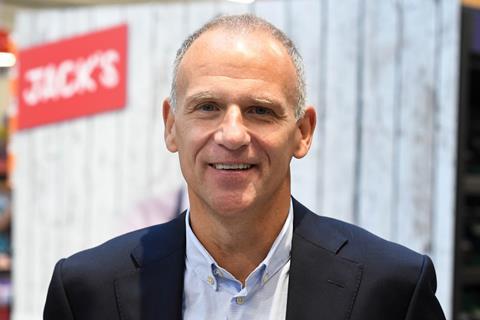 Yet there was one big question left unanswered by Tesco today: what's next?
Boss Dave Lewis dangled the carrot of his new plans on several occasions today but stopped short of giving detail about his vision for Tesco's future.
He will save that for a capital markets day at the Welwyn Garden City headquarters on June 18.
For the time being, Lewis says that although he believes Tesco's turnaround journey will be "complete" in its current financial year, there is still much more work for the business to do.
Tesco's recovery in numbers
Tesco's statutory pre-tax profit grew 28.8% to £1.67bn. It slumped to a £6.4bn loss in 2014/15
The group's operating profit margin is now 3.45%, almost double the 1.8% recorded in Dave Lewis' first full-year at the helm
Tesco UK's 1.7% uplift in like for likes during the fourth quarter was its 13th consecutive period of growth
84% of Tesco customers have tried its 'Exclusively at Tesco' ranges
Tesco achieved its highest-ever supplier satisfaction survey result of 81%
The business has made £1.35bn of cost savings since 2016
Tesco has 10,000 more staff working in customer-facing shopfloor roles compared to when Lewis took over in September 2014
15,600 SKUs have been launched or improved under Lewis' tenure
An overhaul of Tesco's Clubcard scheme has driven a 34% increase in activity from members year on year
"The job is not done," Lewis insists. "We got ourselves into the aspirational range, where we said the turnaround would be done, during the second half of last year. We are confident that we will deliver the 3.5% to 4% [margin] this year exactly as we said.
"Now what we are going to do is set out what comes next. I never, ever say anything about something I'm going to do in the future – it's competitively sensitive. Colleagues first, customers second, and then we can talk about it when we've done it.
"But as the business gets back to being in a stable position, the opportunity to invest for customers is enhanced."
Tesco referred to those today as "untapped value opportunities", which it said would all have an impact on one of three key pillars: product, channel or the customer.
Long-term loyalty
How can Tesco seek to capitalise on those opportunities?
Having won back customers and rebuilt trust in the business, securing their long-term loyalty in a highly competitive market appears high on Lewis' agenda – and Tesco's Clubcard is likely to play a central part.
Lewis has already overseen a number of changes to the scheme, including creating a more digitised offer through a new smartphone app and a contactless card that allows customers to save time when claiming or redeeming points in-store.
"You'll see more from us in the loyalty space," Lewis says. "We have simplified and digitised the offer, now we can start to actually do more things with it."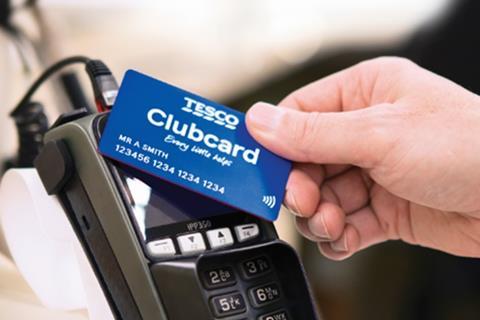 Reports over the weekend suggested Tesco would seek to leverage the Clubcard to create an Amazon Prime-style ecosystem for its shoppers, incentivising grocery customers to migrate to its banking, insurance and mobile phone businesses.
"Having that all-inclusive offer and trying to make that connection with the consumer as total as possible absolutely works," GlobalData analyst Tom Brereton says.
"It makes it easier for consumers to go between one and the other, and they are more likely to increase spend across those bases. I'm not a Tesco Bank user, but I am a Tesco shopper. If everything was put into one place, I might be more tempted by its other propositions."
Lewis says "Clubcard activity" – shoppers claiming or redeeming loyalty points – has increased 34% over the past year alone. Now could be the perfect time to usher in a scheme that joins up Tesco's various divisions.
Room for improvement
When it comes to product, Tesco has already revamped its proposition significantly under Lewis' tenure. The number of SKUs its stocks has been streamlined and investment ploughed into creating new and improved lines across its 'good', 'better' and 'best' categories.
The biggest transformation has been in the good tier, where the 'Everyday Value' brand has been replaced by a stable of 'Exclusively at Tesco' ranges. Around 84% of Tesco customers now buy those entry-level products, which include the Farms brands across fruit, veg, meat and poultry; Eastman's deli foods; HW Nevill's baked goods; and Creamfields dairy products.
Lewis says the number of SKUs available in the 'Exclusively at Tesco' ranges "will increase a little bit" in the coming years but suggests the focus will be on improving the "distribution and availability" of those ranges, "given their success".
One former grocery executive suggests following its decision to shut service counters in around 90 stores, Tesco may need to place more focus on its Finest premium lines to prevent some shoppers migrating to Morrisons or Waitrose.
"The decision to close counters was clearly made with store profitability in mind, but there will be a number of shoppers that use those counters on a regular basis," he says. "If Finest isn't up to scratch in fish, meat and deli to properly replace that counter offer in terms of quality, Tesco could lose a few shoppers."
Despite the progress made to date under Lewis, there are improvements to be made across Tesco's shopping channels, too, particularly in its larger stores.
"Tesco needs to show why it is the market leader by getting back on the front foot and innovating again"

Former grocery executive
"They have got to where they are today by improving the retail basics but there is nothing inspirational or exciting about visiting a Tesco supermarket. It is a very functional shopping trip," the former exec says.
"That is fine when you're coming from the position Tesco was in. But now it needs to show why it is the market leader by getting back on the front foot and innovating again."
Tesco UK boss Jason Tarry says the grocer is striving to create a "destination feel" in larger stores. It has already repurposed around 3.5 million sq ft of selling space since Lewis took over in September 2014 – a chunk of which can be attributed to concession partnerships with retailers such as Arcadia and Next.
He hints at the possibility of more concession deals to further enhance that destination status.
"The shopping mission for fashion is different to food," Tarry says. "If we can create a repertoire, a 'destination', by bringing different brands together to create a reason to shop clothing in our stores, it's the right thing to do."
Standing out
Brereton highlights Sainsbury's Selly Oak store – complete with a food hall and large general merchandise section comprising Tu clothing, Oasis, Argos and Habitat – as the sort of environment Tesco should be attempting to create.
He says transforming larger stores into "out-of-town meccas" in this way will encourage consumers to not just visit for a grocery shop, but "spend a day out".
Brereton suggests Tesco's website and smartphone app should have similar revamps to protect its market-leading position in online grocery.
Tesco's online grocery sales advanced 2.8% last year but the market is growing at around 9%, according to GlobalData.
"There is nothing particularly appealing about Tesco's online offer… nothing that makes it stand out from the crowd"

Tom Brereton, GlobalData
As a result, Brereton describes Tesco's online division as "an area of weakness".
"There is nothing particularly appealing about Tesco's online offer," Brereton adds. "There is nothing that makes them stand out from the crowd. It's difficult to say why people shop with them.
"If you compare that to Ocado, their website is more intuitive, they have a wider range of recipes and their customer service is great. That's an area Tesco should look at, but because online is difficult to make profitable Dave Lewis probably isn't too keen on overspending on that side of the business."
Overspending in general is something Lewis is keen not to do. Despite saying Tesco is looking into "untapped value opportunities", he insists capital expenditure will remain within the previously guided range of between £1.1bn and £1.4bn a year.
Retail watchers will have to wait until June to find out how it plans to splash that cash in the coming years.
Analysis: Where are Tesco's 'untapped opportunities'?
1

Currently reading

Analysis: Where are Tesco's 'untapped opportunities'?

2

3