Thorntons boss Jonathan Hart stepped down today after four years in charge. But despite falling profits, his exit took the City by surprise.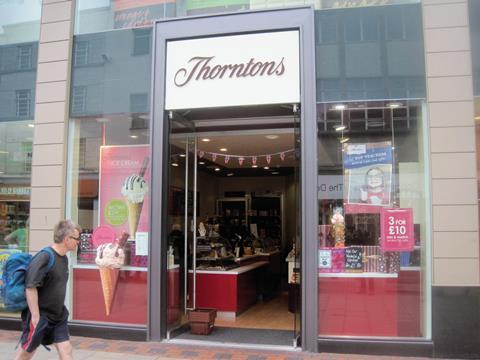 Hart was pressing ahead with a strategy to focus on its commercial division, supplying goods to grocery partners across the UK.
Even though supermarket partners withdrew from agreed orders, Hart refused to blame that for its tumbling profits, which melted 11.2% in its FMCG division to £62.7m in the 28 weeks to January 10.
Speaking to Retail Week in March, Hart defiantly said that Thorntons' success was "in our own hands" but admitted that "critical" changes would need to be made to achieve his goal of transforming the retailer into an international FMCG supplier. Now, it will need a new man to implement and oversee those changes as Hart prepares to step aside in June.
"The more Thorntons exposes itself to the grocers, the more at their will the business is going to be"

Andrew Stevens, Verdict
Verdict retail analyst Andrew Stevens agrees with Hart that big changes are needed in order to "adjust itself to being a commercial partner rather than a retailer".
But Stevens believes Thorntons is relying so heavily on supermarket sales that its destiny is now firmly in the hands of others.
He says: "The more Thorntons exposes itself to the grocers, the more at their will the business is going to be.
"As soon as you start selling products through Tesco, customers start to expect to see them there, but prices will be lower than they would be in a Thorntons store. It's been a spiral whereby they have to maintain business with these retailers for consumers to buy their products.
"Their success is determined by other retailers now, so that makes it very difficult."
He adds that Thorntons brand value has become "diluted" because its chocolates are being sold more cheaply in supermarkets and discount stores such as Poundland and 99p Stores.
Tough job
Stevens stops short of suggesting whether Thorntons' strategy was right, but agreed with independent analyst Nick Bubb that Hart's successor would be taking on "one of the tougher jobs in the industry".
Stevens suggests it would take a four-point plan to transform its fortunes, starting by recovering the perception of the Thorntons brand and reopening a number of stores, after the chocolatier embarked on a store closure programme in recent years.
The chocolatier also needs to differentiate its exclusive in-store products from those sold to retailers and scale back orders to these partners to leave it less open to fluctuating order levels and profits, Stevens believes.
But he warns that process would take the new boss "at least a couple of years" to complete.
"Changing the entire strategy from a retail-led to a commercial-led business is a shift"

Andrew Stevens, Verdict
Stevens says when Thorntons changed its entire strategy "from a retail-led to a commercial-led business", it wasn't set up to deal with challenges that more mainstream suppliers encounter on a regular basis, such as sudden drops in orders - something it blamed for its falling sales in its full-year figures.
"The reason they have put forward is a fluctuation in grocer orders – to them it probably felt like a surprise, but most suppliers to major retailers probably expect that sort of thing and are probably far better geared up to deal with that," Stevens says.
"It's about making sure your expectations are right about what retailers will do with your products. When you are gearing yourself towards being a supplier to retailers, you are subject to what they want.
"The buying power of Tesco, for example, has so much sway that if they are ordering a huge amount and suddenly cut a couple of lines, it will have a huge impact on the business.
"It's about being geared up to deal with those fluctuations and it doesn't seem like Thorntons was."
If Thorntons maintains its commercial strategy, Hart's successor is going to have to run the business more like a supplier if it is to thrive once more.